Gables Talks Ganja
Following the initial decision made last July by the city of Coral Gables to ban medical marijuana dispensaries throughout the city, local leaders are now thankfully reconsidering their stance. Banning these dispensaries and thus stripping away the opportunity for people to access a drug that is as essential to some as penicillin, would be both foolish and dishonorable.

Last fall, Florida voters approved the use of medical marijuana, but now new state laws require local governments to regulate dispensaries in the same form that small businesses and pharmacies are regulated. This means that municipalities like Miami Gardens would not be able to limit the number of dispensaries or have jurisdiction over where they would go, no more than they have control over where pharmacies go– purposely making the establishment of dispensaries considerably unfavorable. This notion propelled the idea of implementing a special overlay district solely for the dispensaries, but whether that would even be feasible is still being discussed. The city of Coral Gables would have a much less tedious time emulating the loophole-approach Miami Beach took earlier this year, which was changing zoning laws for pharmacies so that the same rules for future medical marijuana businesses would apply.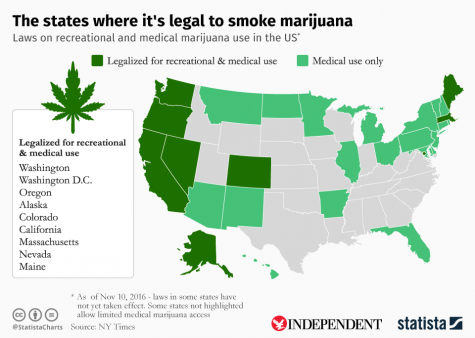 NY Times
The most prominent concern among Coral Gables leaders in allowing medical marijuana dispensaries is the potential for crime. These dispensaries would not be like drug rings, as so many falsely assume, but actual businesses offering marijuana to those solely with a prescription.  A study presented to the commissioners by the Journal of Primary Prevention depicted an increase in property crime, rather than violent crime, in areas surrounding dispensaries in Colorado. This accretion in crime, however, was only in proximity of those businesses— typically one to two blocks away. Leaders fail to recognize that there are already other types of businesses, such as banks, that are in place and lead to higher crime rates than the opening of medical marijuana dispensaries would. Just as crime surrounding other businesses cannot be used to argue against their legitimacy, crime surrounding medical marijuana dispensaries should not be used to argue their legitimacy either.

The lawmakers that consistently focus on the possible downfalls of legalizing marijuana often overlook the plethora of benefits, like decreased public reliance on highly addictive prescription painkillers, or opioids. Opioid abuse, often referred to as an "epidemic" by The Center for Disease Control, kills more people in the United States than guns, car crashes or suicide and constitutes for over 16,000 deaths every year. The solution to this "epidemic" may very well lie right in the implementation of medical marijuana dispensaries. Besides being tied to a decrease in opiate deaths, the presence of these facilities is linked to a 15 to 35 percent reduction in admissions to substance abuse rehabilitation programs for painkiller addiction, according to a paper published by the National Bureau of Economic Research. The study also noted that individuals who would have dealt with chronic pain through the use of opioids tended to opt for medical marijuana when they had access to dispensaries, and unsurprisingly, solely establishing medical marijuana laws was not enough to have an effect on prescription painkiller use. There is no point in medical marijuana being legalized in the state of Florida if it is not available to the very people who depend on it.
All in all, the health advantages heavily outweigh the risks in regards to the consumption of marijuana, and unlike other illegal drugs and substances, according to researchers the University of Washington Medical Center, it is not addictive, meaning no withdrawal symptoms have been heard of, and there is no evidence to support that it even decreases cognitive functions.  Unlike alcohol, which is legal nationwide, marijuana has no lethal dose and little to no drug interaction. As of now, the two main cannabinoids of medical interest to scientists are delta-9-tetrahydrocannabinol (THC) and cannabidiol (CBD). THC has been proven to increase appetite and reduce nausea in (most commonly) cancer patients, as well as diminish pain and inflammation. CBD, the more popular of the two, does not make people "high" and, according to studies done by the Stanford University Medical Center, can be beneficial in treating disorders such as childhood epilepsy.
Denying easy access to medical marijuana would be a disservice to those who depend on it for their own vitality and a direct snub to the majority of constituents in Florida who voted in favor of the legalization of the drug last November. Local leaders would be better off following the public health model rather than the incarceration one on this issue.
The CavsConnect staff encourages comments and conversation on all of our content. We reserve the right to remove comments that are vulgar, rude, hurtful, or unrelated to the topic.