Boca's House: Milkshakes Through the Roof
Oct 4, 2017
In a significant leap for his career, César González switched from owning a nightclub in Venezuela to co-owning a multi-cultural restaurant, known as Boca's House, with a vast menu of sweet treats and hearty meals. Born in Venezuela, González comes from a long line of restaurant owners and he has successfully followed in their footsteps after opening the restaurant in Doral and Coral Gables.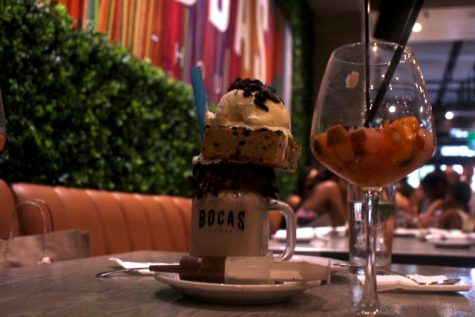 Striving for a new taste, González created the coveted milkshakes that Boca's House is known for. Appealing to both the eyes and the tastebuds, the dessert has blown up on social media, bringing much attention to the restaurant.  "The Golden Milkshake," a milkshake unique to the Coral Gables location, is a nutella milkshake topped with a nutella brownie, a scoop of vanilla ice cream and fudge along with a chocolate, gold sprinkled dome that oozes warm nutella fudge down the ice cream when broken. Manager Simon Cohen describes the milkshake to have a "golden, nutella flavor" and claims it to be his favorite and the most popular milkshake at Boca's House.
The "smaller" milkshakes, including Nutella and Tres Leches, cost $16, while the larger cookies and cream milkshake costs $18.
With a new location at 2 Aragon Ave. in Coral Gables, the Venezuelan-Peruvian fusion restaurant offers a seemingly endless menu. From steaming hot appetizers to scrumptiously chilled ceviche, there is a wide variety of delicious hispanic cuisine for every customer.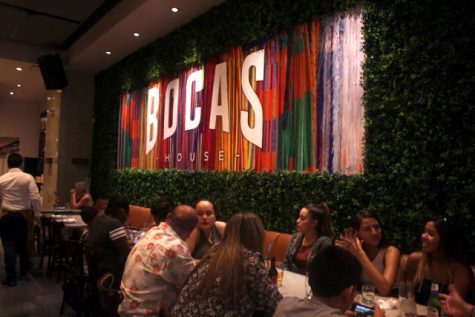 For a refreshing, yet, filling dish to share, the ceviche sampler which includes Corvina Ceviche, Boca's House ceviche, Salmon ceviche and Vuelve de la Vida, is highly recommended. Served with golden yuca fries, homemade guasacaca, a savory sauce made from avocados, chili peppers and citrus juice, and chimichurri sauce, the porterhouse steak stands as a signature meal at Boca's as well. For a classic Peruvian-Asian infused dish, the "Arroz con Cerdo" is a serving of wok-seared white rice served with a savory boneless pork rib in a sweet and sour sauce.  
The social media outburst that followed the creation of the Boca's House milkshake was completely unexpected for Boca's House.
"Everything just went viral as soon as it started and I don't think anyone knew how crazy things were going to be," Cohen said.
For a milkshake that is guaranteed to melt tastebuds, visit Boca's House. The restaurant can satisfy any sweet tooth craving or grumbling stomach with their delectable milkshakes and their fresh take on fusion cuisine.