Student Startups: More Than Just a Teenager
Nov 13, 2022
Balancing rigorous academic classes and the trials and tribulations of being a teenager, the majority of high school students struggle to find themselves on the journey to adulthood. However, in the midst of it all, a few Cavaliers have managed to not only discover their passion but plant the seeds of their future and watch them slowly grow. Leaders of tomorrow, these students have gone above and beyond and shown that they are prepared to handle what it takes to run a business.
DD's Jewelry: Turning a Hobby into a Business
As students strive to find a hobby that will help them cope with the stressors of everyday life, some might find relief in playing a sport such as basketball or soccer, while others immerse themselves in the freedom of writing, painting and photography. For junior Dainelys Ledesma, her pastime takes the form of ornate beads and colorful string that eventually transform into bracelets and necklaces. Behind each one of Ledesma's creations is an inventive vision she brings to life, through the art of jewelry making. 
Ledesma's journey to jewelry making began two years ago when the world shut down, due to the pandemic back in 2020. While carefully managing her responsibilities with her academics during her eighth-grade year, she decided to take on a hobby to help make time pass by.
Watching several videos online, she found inspiration from people who had lost their jobs during the pandemic's shutdown and decided to take matters into their own hands by opening small businesses from home. There, she saw entrepreneurs create bracelets and necklaces from merely beads and threads. She then began perfecting the art of jewelry crafting by creating unique pieces to brighten people's days. What initially began as a hobby quickly turned into a business venture for Ledesma, as she established DD's Jewelry.  
View this profile on Instagram
"I saw a lot of people starting small businesses at home and I saw it as an opportunity to be a little more independent. I started around august 2020, I love making jewelry. I like being able to turn an idea into something physical, it's therapeutic for me," junior Dainelys Ledesma said. 
While Ledesma often sells her handmade jewelry on social media such as Instagram, her business mainly thrives in her mother's nail salon. There, she puts her bracelets and necklaces on display to catch the attention of customers. In addition to her ready-made bracelets, Ledesma routinely makes made-to-order bracelets for her clients who request specific color combinations or gems. To accommodate the various requests from her customers, Ledesma sources her materials primarily from Amazon to ensure that she can complete her orders quickly and efficiently. 
"I like to think of it as a hobby that I enjoy doing so I don't take the fun out of it. I just want it to make people smile even if it's by making something simple that looks cute," junior Dainelys Ledesma said. 
Although DD's Jewelry has given Ledesma financial independence alongside a creative outlet, balancing her business and her academic career can prove to have its difficult moments. As a result of many of her clients often ordering several bracelets at a time, becoming overwhelmed with orders is not an infrequent occurrence for Ledesma. Fortunately, she navigates this by managing her time diligently, making sure to reserve jewelry crafting for the weekends. 
"Dainelys is the type of student that will go far beyond. She is always willing to help her peers in class and she uses her talent of creating jewelry to teach others how to create bracelets and necklaces. Hopefully as the school year goes on, she will be able to create a lesson plan since she is in my Teaching Academy class, for students to learn how to make the pieces and ultimately inspire others to use their hobbies for something more," Ms. Passwaters said.  
Ledesma strives to continue viewing the hobby as a method of destressing rather than as a chore or stressor. With this no-pressure mentality, Ledesma hopes to expand DD's Jewelry and utilize this talent of hers to help those who are interested in learning how to make jewelry while striving for success in her academics, extracurriculars and personal life. 
About the Contributors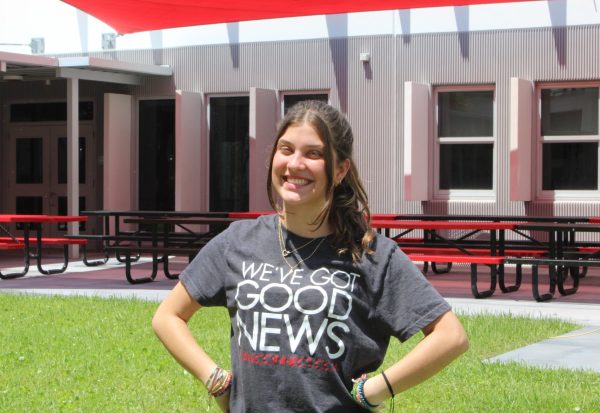 Lorena Acevedo, CavsConnect Staff Writer
Entering her final year at Coral Gables Senior High, senior Lorena Acevedo hopes to make this her most notable year yet. As returning member of Cavsconnect,...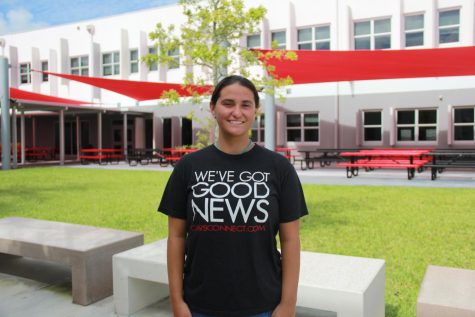 Jacqueline Rodero, CavsConnect Staff Writer
Jacqueline Rodero is a senior in the International Baccalaureate program. This is her second year as a CavsConnect staff writer. As she closes her time...
Leave a Comment
Food 4 Thought: Paloma Rosania's Mission to Bake with a Purpose
Ever since she can remember, sophomore Paloma Rosania has always wanted to be a leader in the business world. A new addition to Coral Gables Senior High, 15-year-old Rosania moved to Miami in July of 2022 from Michigan to be closer to her family. Wanting to get involved with her community and live out her dream of becoming a business entrepreneur, Rosania is planning on establishing Food 4 Thought, an organization that makes and sells baked goods to fundraise for the Brain and Behavior Research Foundation.
Knowing someone close to her who struggles with schizophrenia, a cognitive disorder that researchers still have limited knowledge on, Rosania is no stranger to the debilitating effects mental illness can have. This disorder has impacted their life, as well as Rosania's in a negative way, considering that doctors do not exactly know how to treat it. With so many people unfamiliar with mental disorders, Rosania aspires to help those in need while spreading awareness on the topic through F4T.
"I think a lot of people believe that mental illness is a topic that has a ton of research on it, and is well known, but that is far from the truth. It's something we know very little about, yet 1 in 5 people struggle from some sort of mental illness. I am hoping with these sales, I can contribute to alleviate the pain caused by mental illnesses, and find more information about the causes and effects of mental disorders," sophomore Paloma Rosania said.
Food 4 Thought is not only about spreading awareness about mental disorders, but it also opens the door for people to make friends and get to know others at Gables. Members of this organization get to bake delicious pastries that they later get to sell. Participants can also work on the social media page of the group, design flyers and posters to promote the baked goods.
"
Business has always been what I wanted to do for as long as I can remember, and I was trying to think of ideas to gain some business experience in high school, but there wasn't much I could do since I'm only a tenth grader. I also wanted to get involved with the school since I am new, but wanted to help my community as well. That was when I thought of the idea for F4T, an organization that donates some of the profit to a charity that emphasizes mental health awareness.
— Paloma Rosania
Rosania has lived in Miami for only two months, and has had to overcome the struggles of moving away from all of her friends in Michigan while adapting to the fast-paced culture of Miami. Not only has Rosania had to grapple with these obstacles but she also came from a small private school in Michigan. Now at Gables, a school with over 3,000 students, Rosania aims to become very involved at her new highschool and start Food 4 Thought to unite students that strive to help their community.
"I will be forever thankful for the girls on the cross country team that built a smaller family in such a big world, and they definitely helped me ease into things here. I will also never forget the first day when I was sitting alone at lunch and the sweetest group of girls, who are now my friends, invited me over to go sit with them. It is these girls from cross country and the ones who invited me to sit with them who are making F4T possible and helping my idea come to life," sophomore Paloma Rosania said.
Rosania is organizing the first meeting for Food 4 Thought sometime in the next month; however, she is still awaiting the green light for the club to become official at Gables. With many goals set ahead for herself in the future, Rosania plans to live the upcoming school year to the fullest, achieving her lifelong goal of becoming a business entrepreneur while savoring the full high school experience in the process.
View 1 Comment