Alfredo Wolfermann: Let's Start with A Hello
Sep 23, 2017
Alfredo Wolfermann is a junior at Coral Gables Senior High who has big plans for this school and its students. To accomplish these goals, he is part of many clubs. He is on the board of Best Buddies, which is a club dedicated to interacting with students with disabilities and organizing activities for their enjoyment. He is also on the board of the Interact Club on campus, which is a community service-centered club that has many chapters across the nation. They organize events such as Breast Cancer Week, Valentine's Day marriage proposals, and participate in annual walks to raise awareness for important issues such as autism and Alzheimer's disease. Not only is he active in his many clubs, he is junior class president, has served on the board since his freshman year and writes for the student-run news magazine at school, Highlights.
"I am extremely grateful and honored for the opportunity to be able to represent and work for our amazing class throughout the past two years and the third in progress. As a board we work hard to bring class trips, fundraisers, college tours, treat days and more for our students," Wolfermann said.
Also a successful athlete, Alfredo has been a member of the Gables swim team since he first arrived on campus. In his freshman year, he received Rookie of the Year award and has since continued to train and perfect his form.
"Hopefully we will take a relay to the states championship this year," Wolfermann said.
Alfredo wanted to continue to contribute to the school and with the support of the Interact Club; he is working to begin a new project called "Hey Day." Consisting of a day each month in which the school has one "Start with Hello" event, Alfredo hopes to bring the school together and work at ending social isolation, which is a key root of teen violence and suicide.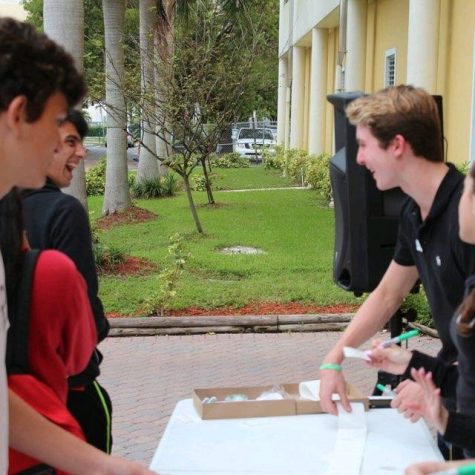 "Start with Hello" is an organization stemming from the "Sandy Hook Promise" company which focuses on preventing school violence and shootings, similar to those our nation has experienced in the past. To implement this idea, he had to reach out to a Sandy Hook Promise associate in South Florida, who helped him start the "Start with Hell0" related event. For the first event on Sept. 27, Wolfermann distributed name tags to students on campus. These name tags were meant to be worn through the entirety of the event to accomplish the goal of facilitating student interaction and friendship. The event will continue for several oncoming months to further promote acceptance and communication among students on campus.