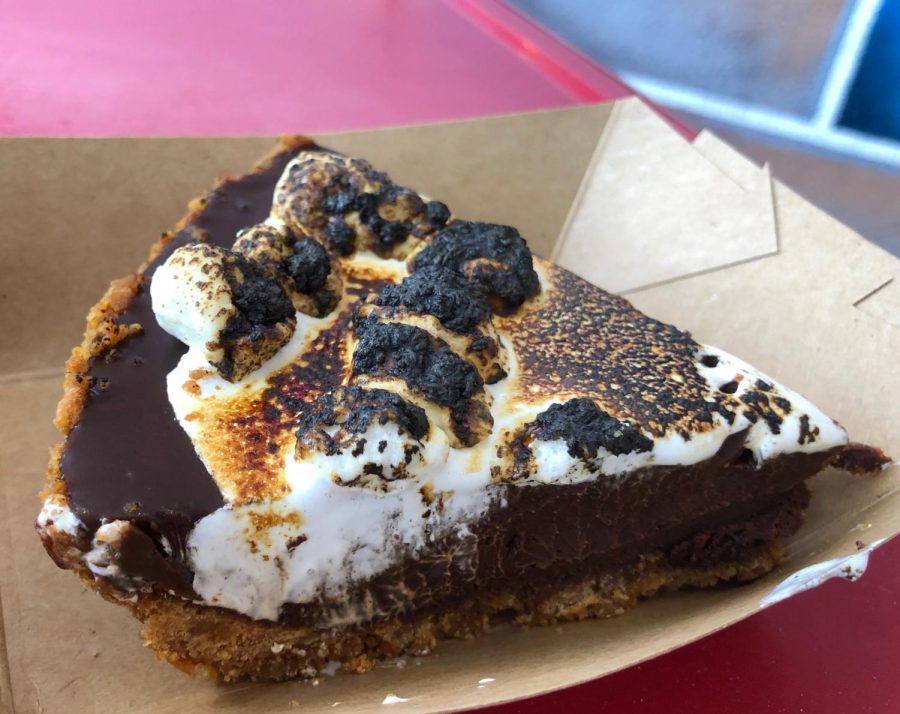 Fireman Derek's Pies are on Fire!
Fireman Patrick Murdock's dying wish to open a pie shop for his friend Derek became a reality and is now one of the most popular stores in all of Wynwood.
Located in the heart of Wynwood, Fireman Derek's colorful, brick building with "Fireman Derek's Bake Shop & Cafe" carefully hand-painted across the front, blends in with Wynwood's infamous graffitied walls and artsy dynamic. From across the street, a flashing neon sign of a red fireman protrudes from the building and calls the attention of tourists and locals alike, bringing them closer to the freshly baked pies that await just feet away. From inside the store, more neon signs reading "Hot Pies" and  "Now" in bold stand out from an otherwise obscure design. The walls surrounding the facade are decorated with a three-dimensional, abstract take on Fireman Derek's famous pies, while inside the shop, a vibrant painting of a firefighter with a similar design extends from one side of the wall to the other. All around the store, chalkboards hang with menu items and sketches of fire trucks and fire hydrants along with a drawing of a smiling Kaplan overlooking his shop with his helmet on and the words "World Famous Pies" and "Get Caked" perfectly placed under him.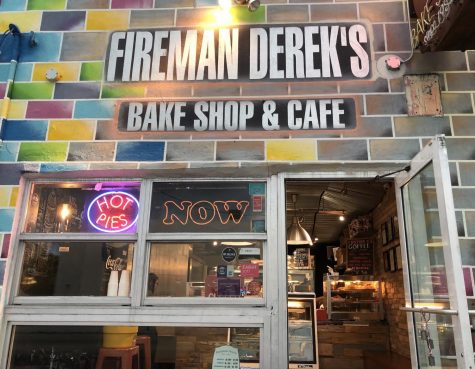 Before he passed away, firefighter Patrick Murdock's last selfless aspiration was to open a bake shop for his friend and fellow firefighter Derek Kaplan. Throughout his career with Kaplan, Patrick Murdock would constantly gush to his wife Kimberly Murdock about Kaplan's pies and how if he had the money, the first thing he would do is open a pie shop in his friend's name. When he passed away from an enlarged heart unexpectedly at the age of 45, leaving a large sum of money in his wake, Kimberly Murdock knew exactly what to do. With the help of Kaplan and her son, Patrick Murdock Jr., she opened Fireman Derek's Bake Shop, known for its eccentricity and decadent pies in July, 2014.
Fireman Derek's pie flavors, all of which are created by Kaplan, range from classics such as Apple and Pecan Pie to more one-of-a-kind flavors such as Guava Berry Pie and Salty Monkey Pie — a chocolate ganache, peanut butter and banana filling on an oreo cookie crust, topped with crushed pretzels and a chocolate drizzle.
"Our most popular pie is definitely the key lime; it won the Best of Miami award two years in a row," employee Callum Garritty said. "Although most people tend to go for the pies, we have a lot of other popular items also; customers really like the white chocolate guava cookies and the carrot cake."
Although their pies are constantly making the front page of the Miami Herald and other Miami-based food magazines, Fireman Derek's other items do not fall far behind. They offer a variety of baked goods, from red velvet cake and nutella cheesecakes to empanadas and cookies. They also offer an array of Caribbean-style treats to match Miami's tropical ambiance such as a guava coconut rum cake and guava white chocolate cookies.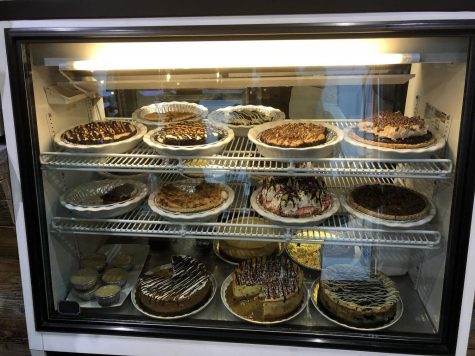 Though Fireman Derek's has a few menu options that stay constant all year-round, they rotate most of their pies once a month. They also have certain pies that they feature for holidays and specific seasons, such as their Irish Car Bomb Pie that was offered for St. Patrick's Day and their Peaches and Cream Pie that is currently being offered for the spring season. Pies are served either by the slice for $6 or whole for $30, and are served fresh from 8 a.m. to 9 p.m. Monday through Wednesday, and 8 a.m. to 10 p.m. Thursday through Sunday.
Whether one is a chocolate enthusiast or an apple pie aficionado, Fireman Derek's has the dessert for every occasion. Its neighborly atmosphere and the alluring aroma of its freshly baked pies make the small bakeshop the ideal location to share a sweet meal with friends or colleagues. The next time one finds themself among the vibrant walls of Wynwood, pay Fireman Derek's a visit — even if it is just to check out the latest wacky pie flavor.