Officer Suarez & Ricky G: Gables's Unstoppable A-Team
From teachers to custodians, Coral Gables Senior High is shaped by the support staff who work tirelessly to create a safe space students can call home. This would not be possible without Jandro Suarez, Gables's School Resource Officer, and Ricardo Gonzalez, the Dean of Students and Comprehensive Support and Improvement Coordinator. Doing everything together from mentoring students to taking morning rides in the infamous golf cart, the duo work hand in hand to keep Gables safe.
"Ricky G. and I work together even when if it doesn't involve me. I'll try to chime in and give him my two cents, and he does the same for me. And Ricky G. has also helped me with his de-escalation skills, they are really superior," officer Jandro Suarez said. 
Both Officer Suarez and Ricky G. place a high emphasis on working with the students and not against them, all while securing the safety of their fellow Cavaliers. With both of their backgrounds in teaching they are far from clueless when it comes to dealing with young adolescent minds. Their joint efforts combat any and every situation with persistence and perseverance.  They strive to have the ability to prevent and deescalate incidents by creating connections with students, making sure they are seen as helping hands in the community.
"My main priority is to try and mentor and help the students, find out why they're behaving the way they're behaving, and hopefully get to the root of that issue before it becomes a bigger issue," officer Jandro Suarez said.
"
Their team is irreplaceable, I'm glad we have Ricky G. and Officer Suarez around. When I'm walking in to school every morning I always see them exchanging at least a 'good morning' with everyone walking in. I think the fact that they prioritize bonding with us so much is what makes them so special, I know I personally would never want to disappoint them,"
— junior Anabelle Gonzalez said.
As Dean of Students and SRO, Gonzalez and Suarez play a large role at Gables where they are often found guiding students through difficult situations and providing disciplinary action. Together, they work to enforce the Code of Student Conduct and enable students to follow it, motivating them to act right and be better. Their impact does not go unnoticed as they are often found engaging in conversations and spending time with the community of students on campus.
"The only big challenge was, you know, I wear a uniform that is kind of intimidating to most kids, but to me, just breaking the ice and being able to go out there high fiving kids and just being a part of the faculty and environment here has definitely broken that barrier," officer Jandro Suarez said.
The pair work together fulfill their endless duties wherever help is needed, providing safety and support to our school. Although, this team has only been established for a few years Suarez and Gonzalez have become a core part of the Cavalier family.
"Our team is good cop, good cop. There are no bad cops here," officer Jandro Suarez said.
Leave a Comment
Your donation will support the student journalists of Coral Gables Senior High School. Your contribution will help us cover our annual website hosting costs.
About the Contributor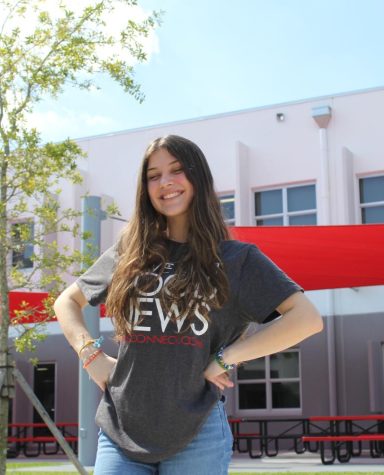 Lorena Acevedo, CavsConnect Staff Writer
Lorena Acevedo is a junior in the Design Education and Hospitality program at Coral Gables Senior High. Entering her second year in CavsConnect, she hopes...