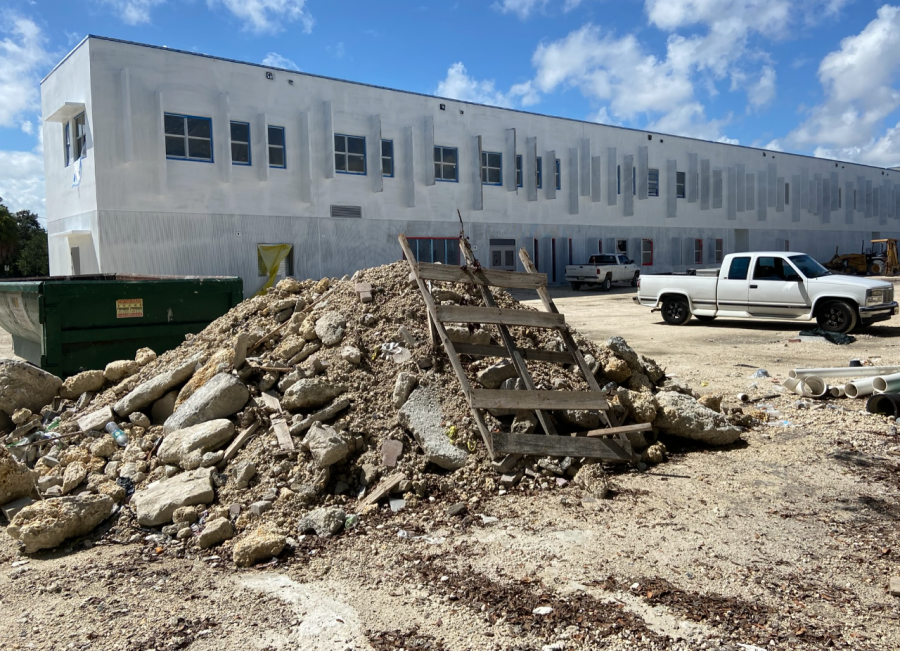 COVID-19 School Reopening: The New Normal
Miami Dade County Public Schools is the fourth largest school district in the United States and because of this, there is great urgency for students to return to school in-person. After a highly anticipated school board meeting that occurred on Sep. 22, the school board unanimously voted to reopen schools with a staggered approach, utilizing the decisions guardians made on the survey sent out in July which allowed them to decide whether or not they want their children to be in-person or online come a reopening. This decision means that students who opted for in person instruction would return to school no earlier than Oct. 14 and no later than Oct. 21.
With the ongoing pandemic, there is a continuous debate on whether or not it is safe for students and teachers to return to campus. The Associated Press argues that airborne transmission of COVID is very possible, which worries those that are already debating whether social distancing measures can really be implemented and executed in such large schools. In addition, there is still a lot that remains unknown about how severe this virus can get and how contracting it is much easier than what was originally anticipated.
Although MDCPS has released their "reopen smart, reopen safe" plan which includes social distancing, hand sanitizer pumps and one way hallways, both students and teachers alike worry for their safety. Other than questioning how large schools can enforce these suggestions, no plexiglasses were given to MDCPS classrooms.
As far as the return, there seems to be confusion among students and parents. Returning to in-person learning would be very different than what they consider a typical school day to look like. Although they will transition to a classroom setting, teachers will continue teaching via Zoom, as there will still be students taking their course at home. Masks will be mandated, requiring students and staff to wear a mask for over 7 hours. Not only is this uncomfortable, but it also makes communication between teachers and students much more difficult, especially with social distancing guidelines in place. This also leads to the problem of bathroom usage. Unlike before, students are forbidden to enter the bathroom at their leisure and must wait to do so when a "hall monitor" gives the teacher the go ahead, if there are less than two people in a bathroom. Additionally, Gables students have already had issues with bathrooms running out of necessities such as toilet paper or usable soap by lunch time. Normally, students would be able to socialize, talk to their friends and stop by another teacher's class. Due to the circumstances, this is not the case. School which once was lively and full of students, will now be bleak and empty.
"As a senior, I wanted to experience a fun and exciting school year, but after realizing that returning to Gables in person wouldn't be returning to the same Gables that we left when all of this started, I realized that staying home was the smarter and safer thing to do for everyone involved. I would rather be in the comfort of my home while in class than having to sit in a socially distanced classroom with my mask on receiving the same instruction I would be receiving at home," senior Melanie Ozuna said.
Coral Gables Senior High has over 3,100 students; even if only half of the student body were to return for in person instruction, that would mean there would still be around 1,600 if not more students in the building. If CDC guidelines can not be met, the risk of contamination is greatly increased and can cause a spike in cases within the entire community.
"I personally do not think it is safe to return to school at the moment, right now in Miami Dade our cases are going up again, and that's just with some private schools open, not with all Miami Dade schools open. I don't think it is feasible for any school to open in an area like Miami where we have been somewhat of an epicenter throughout this pandemic, and I think it is far less traumatic to go through a semester or 2 of online school than potentially catch coronavirus or transmit it to others, I will be continuing online school for the time being," junior Rachel Dopico said.
On top of the general worries that schools in our district have, Gables specifically is under mass construction with approximately fifteen classrooms that can not yet be used, as well as the loss of one of the cafeterias and two walkways. Students and faculty members worry that there is not enough space to safely house students and teachers.
"As much as I want to go back to school, I am terrified for the reality that awaits us. Not only are we down classrooms, but also a whole cafeteria, our Gables Campus is not prepared to hold all students returning for phase two," senior Natalie Abrahantes said.
Governor DeSantis has made it clear through recent decisions that returning to "pre-COVID" normal is more important than protecting Floridian lives. Making the premature decision to open to Phase 3 and lifting all COVID restrictions can greatly impact the safety of our students as well. His decision may be an indicator that all students will eventually return to campus. However, having these establishments open will likely cause another spike in cases making Florida an epicenter once again.