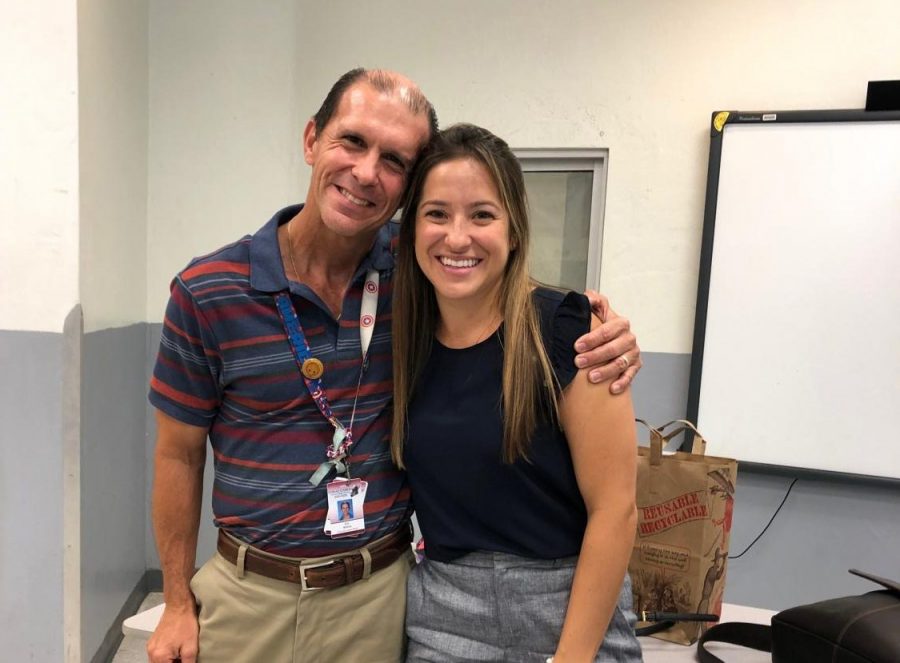 On Thursday, Sept. 12,  the newly-founded Gables Future Medical Leaders Club sought out to bring a doctor to their first meeting in hopes of inspiring students who have an interest in careers within the medical field. To achieve this the club sponsor, Mr. Molina, got in contact with one of his former students, Michelle Fletcher.
Dr. Fletcher, a graduate of the Gables Class of 2005, is now an Obstetrician and Gynecologist. This former International Baccalaureate (IB) student, who was also actively involved in Student Activities and multiple sport teams while at Gables, now works in Broward Health Medical helping women and children across Florida.
Fletcher revisited her alma mater to talk about her profession, while also speaking about her experience at Gables and how she discovered her passion for biology through high school. Dr. Fletcher also talked about her journey into medical school and how much she enjoys helping women and children.
"High school at Gables was a great experience overall; I enjoyed everything from my classes to my extracurricular activities. Gables felt like a family, and my coaches and teachers were always there for me," Fletcher said.
Fletcher's presentation at Gables first gave her student audience the opportunity to ask questions, and she then spoke about her obstacles that she has had to overcome throughout her life. During this time, she emphasized that a life in the medical field is by no means easy, but remains possible if there is a deep-rooted passion for it and a strong work ethic. She encouraged students to use their free time to volunteer in hospitals or their own pediatric clinics to gain the experience necessary to pursue a medical career.
"Dr.Fletcher really inspired me and made me feel more comfortable to try different things. For example, when she said that we should be well rounded, I would have guessed she would say that all we would need to do is study and only study, but now I feel much better and want to try other things out of my comfort zone," sophomore Esperanza Barrios said.
Fletcher also recommended that students aiming to go into the medical field should attend a small college. According to Dr.Fletcher, attending a small school would allow future medical students to get more help and one-on-one time with professionals. When she first began her journey in the medical field, she started out in a clinic, and then later moved to a hospital. While there, there were often times where she would work a full day and get little to no sleep as there was a regular weekly requirement of 80 hours.
"I thought Dr. Fletcher was fantastic, she gave us insight on what the life of a doctor is like and I think it calmed everyone that was there because it showed us that it is attainable to achieve if you set your mind to it. Plus, she was very truthful, relatable and straightforward on what she told us," sophomore Amanda Perez said.
Thinking about the future is key, but as Dr.Fletcher advised, you do not necessarily have to have it all figured out already. When choosing a career, you have to make sure that it is what you love to do, and that you have done some prior work in the field to make sure it is something that you want to continue to pursue. No matter the obstacles that come your way, if you really set your mind to something that you love to do – even if it is strenuous – you can accomplish it and Dr. Fletcher is the living embodiment of that.