Splashing Onto the Scene
Senior Camila Torres has been swimming her entire life, and her senior season on the Coral Gables Cavaliers Swimming team represents the last time she plans on swimming competitively. Going into the season, the entire team had high hopes and nothing short of a district championship would satisfy the roster. Torres shared in the lofty expectations of the team which she captained, as well as setting some goals for herself. State championships are the ultimate goal for any high school athlete, and Torres is confident that the team can have a few swimmers and a potential relay team qualify.
Torres is a senior in the International Baccalaureate program at Gables, and has been able to find a balance between her responsibilities as a student and as an athlete. It is no small feat to be an integral part of a team that practices often and hopes to compete at a high level, while at the same time focusing on a rigorous academic curriculum. Torres insists that she is a student first and an athlete second, but has every intention to give both aspects her best effort.
"
I'm glad my senior season was filled with a lot of wins and a strong team."
— Senior Camila Torres
---
How long have you been swimming?
I have been swimming for about 13 years. Basically, I've been in the water since I have been able to play a sport.
Have you played any other sports?
I also play water polo for Gables and I have been on the team since my freshman year.
Do you plan on swimming in college?
I do not plan to swim competitively in college but I do plan to do it during my free time as a means to pass time and exercise.
What are some of your hobbies outside of swimming?
Besides the obvious swimming, I enjoy playing and watching all types of sports, but I also enjoy spending time outside and listening to music.
What have you learned from being on the swim team?
I have learned to be more disciplined in the sport, as well as outside of it, and how to properly lead a team, since I am one of the captains this year.
Do you have any advice for anyone looking to join the team?
The swimming team is a very fun environment and anyone that has any interest in swimming and enjoys being a part of a team should not hesitate to join.
About the Writer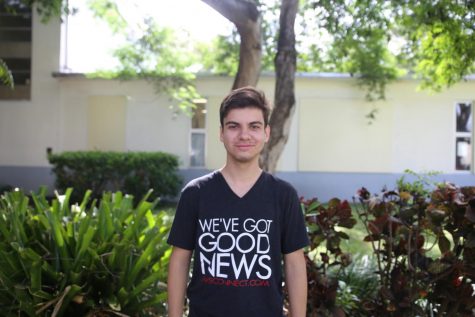 Patrick Ales, Staff Writer
Patrick Ales is a senior in the International Baccalaureate (IB) program at Coral Gables Senior High School. This is his first year in CavsConnect and...