The Start of Something New: NHS Induction and Board Announcement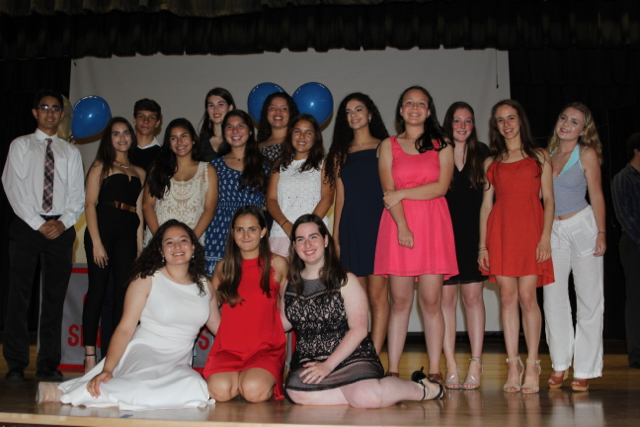 The 2016-2017 National Honors Society (NHS) Induction Ceremony began with the mother of this year's club president (Sabrina Fiske) giving a speech about the importance of never giving up and being true to yourself. Afterward, those who previously applied for an officer position anxiously waited for the announcement of the new board for the next year. The new officers were announced and called on stage, symbolizing a new sense of excitement for what the future holds as they come together to run the club. Then, the members of NHS were inducted officially into the club. To conclude the ceremony, the new presidents of the club gave speeches about how they were looking forward to a great year. The list of names for the 2017-2018 board includes: Marta D'Ocon, Yara Faour, and Marissa Singer-Rosenberg as Presidents, Lior Colina as Vice-President, Brianna Curran and Angelle Garcia as Senior Secretaries, Stefany Ortiz and Grace Sedaghatpiseh as Junior Secretaries, Kade Marriott and Giselle Clarp as Sophomore Secretaries. In addition, Valeria Gutierrez, Rachele Angiolini, and Alyssa Lamadriz are the Treasurers and Elliza Beltran, Marina Torras, and Lauren Pettigrew as the Historians. Here's what some of the officers have to say about their positions:
Marissa Singer-Rosenberg:
Singer-Rosenberg was on the board this year and was captivated by how a huge club can get everything done behind the scenes. She was excited at the beginning of the year to be a Senior Secretary alongside Lior Colina. Singer-Rosenberg ended up enjoying working for the club, especially with the people who were in it. This year, she decided to apply for President and got it along with Yara Faour and Marta D'Ocon, and they cannot wait to serve the Gables population next year as leaders of the NHS club.
"This year, the presidents, Tamara Duester and Sabrina Fiske, set the bar really high for the three of us and we hope to live up to the work they put into it and even put in our own improvements to the club. I would love to have more events, more interaction and easy communication with our members, and more bonding events with our board," junior Marissa Singer-Rosenberg said.
Kade Marriott: 
Marriott decided he wanted to be a part of NHS  because he wanted to be more involved in the school and found that NHS was a great way to do just that. He hopes to get more people (especially sophomores) involved in the club. Moreover, he wants to make sure that the club keeps running smoothly and would also like to see more participation in community service events.
"They have great opportunities to serve the community. NHS stands for scholarship, service, leadership and character, which are all really important to me. I believe those are traits high school students should try to develop as they go through high school," sophomore Kade Marriott said.
Rachele Angiolini: 
Angiolini was a member in NHS this year and she really enjoyed the experience she had during her first year being a part of the club. Her experience this year inspired her to become an officer to serve the club. She thinks that becoming part of the board will help her serve and become more involved in her community.
"As a Treasurer, I want to help create more events that members can volunteer for and to make sure the NHS 2017-2018 school year will run smoothly and make it the best year yet!" sophomore Rachele Angiolini said.
Elliza Beltran:
Since Beltran is skillful in photography and has the position as photography editor in the yearbook, she felt that she should extend herself further into helping a club that Beltran believes is prestigious and very important for our school. Beltran has been involved in community service since elementary school through her family and has always believed that helping the community in any way is a great contribution. As a historian, she hopes to document the activities NHS does to show our school the benefits of joining the club.
"I would like to better represent NHS through all publications and also collaborate with the other board members to have more community service events and fundraisers earlier in the year and possibly more grade-designated events such as the NHS Car Wash that was recently held. Making the club a more open and sociable environment is also another goal of mine which is what will make others want to come to these events," sophomore Elliza Beltran said.
Congrats to those who will continue the legacy of NHS next year on the board and to those who were officially inducted into the club.