Samantha Valero, Staff Writer

November 6, 2014
Our Rating: A This fresh Mexican grill is truly one of a kind, proudly offering everything from salads to quesadillas, all the way to key lime pie and more! "Everything in our stores is made fresh daily, including all of our homemade salsas. Additionally, our menu offers a ton of variety (...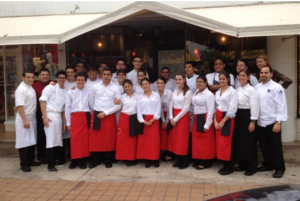 Camilo Bacca, Staff Writer

March 4, 2014
On Monday, March 10th, the Coral Gables Senior High's Culinary Arts Academy will be hosting its 4th annual Gala Night. For the past three years, Gala Night has been held at CGHS, but unlike past years, this year's Gala will be held at Dome Restaurant on Miracle Mile. The Culinary Arts Academy will ...