Ana Capiro, Spanish Editor

August 18, 2019
The Cavalier Cheerleading team brings spirit and energy into all school events, and this upcoming school year is no exception. With the objective of improving their moves and fortifying the team dynamic, the girls of Gables cheerleading attended a week-long camp held by the Universal Cheerleaders Association...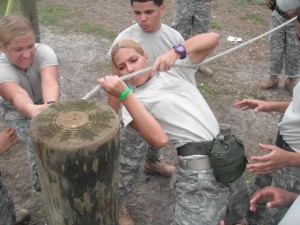 Patricia Passwaters, Executive Editor

June 27, 2012
On June 20 to 24, 14 JROTC cadets attended an annual leadership challenge camp located in Davie, FL. Along with hundreds of other students from different schools in Dade county. They lived outdoors for a week where they participated in aquatics training, map reading to locate different size grids, learned...