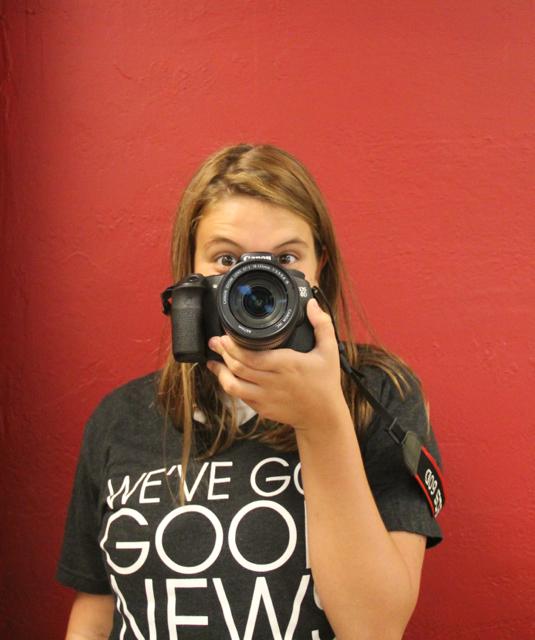 Kelly Hanley is a sophomore IB student at Coral Gables Senior High. This is her second year as one our CavsConnect photographers.
Kelly Hanley is a responsible individual who loves the academic scene and the subjects she is involved in. Her favorite subjects are mathematics and science.
She likes to eat asparagus and boiled potatoes. Kelly likes balloons, but not when they are released into the open, which usually ends up killing and destroying wildlife. She really likes corn nuts and the movie "How to Train Your Dragon 2". Her best friend is her goldfish Barry, whom she loves dearly. She enjoys petting dogs, specifically those named after Beatles members.
She looks forward to her sophomore year, which will be filled with some challenging classes, taking some great photos, and making some new and long-lasting forever friends! <3
Kelly Hanley, Photographer
Jun 17, 2016

Class of 2020 Attends Cav Camp 2016

(Story)

May 25, 2016

Publications Attend CAF&DM Banquet

(Story)

May 23, 2016

National Honors Society Annual Induction

(Story)

Apr 30, 2016

Gablettes Celebrate 40 Years at Revue

(Story)

Apr 29, 2016

How to Efficiently Study

(Story)

Apr 16, 2016

Gables Celebrate Prom Havana Style

(Story)

Apr 14, 2016

Seniors Celebrate at College Signing

(Story)

Apr 05, 2016

Seniors Recognized for Academic Excellence

(Story)

Mar 31, 2016

IBHS Host Annual Bridge 4 Peace Charity Fundraiser

(Story)

Mar 16, 2016

Gables Boy's Volleyball Takes a Loss Against Southwest

(Story)

Mar 02, 2016

Gables Track: Coach Exposé

(Story)

Feb 22, 2016

Cavaliers Score 10-0 Against Bulldogs

(Story)

Feb 15, 2016

Track: Preseason Quad Meet

(Media)

Feb 04, 2016

CAF&DM Students Bond at Field Day

(Story)

Feb 03, 2016

Pick Your Favorite CAF&DM Door

(Story)

Jan 15, 2016

CG Ultimate Snowleopards Expose

(Story)

Dec 07, 2015

Students Show Their Club Pride

(Story)

Nov 24, 2015

Gablettes and Dance Classes Host Fall Frolics

(Story)

Nov 12, 2015

Catharsis Hosts Trivia Night at Gables

(Story)

Oct 26, 2015

Students Attend Ethical Governance Day Presentations

(Story)

Oct 23, 2015

Cavs Think Pink for Breast Cancer Awareness

(Story)

Oct 15, 2015

Coral Gables Prep Visits Gables

(Story)

Oct 03, 2015

Gables Goes 50's at Homecoming

(Story)

Oct 01, 2015
Sep 11, 2015

Gables Leads With A Win

(Story)

Sep 09, 2015

Coral Gables Vs. Miami High Girls Volleyball

(Story)

Jun 02, 2015

Gables Welcomes Class of 2019

(Story)

May 28, 2015

Class of 2015 Officially Alumni

(Story)

May 22, 2015

Little Cavaliers Graduate "Beatles" Style

(Story)

Apr 29, 2015

Outstanding Cavaliers Awarded

(Story)

Apr 28, 2015
Apr 11, 2015

Class of 2018 Field Trip: Where Dreams Do Come True

(Story)

Mar 08, 2015

Gables vs. Braddock Baseball Game

(Media)

Feb 28, 2015

Cavalier Water Polo Take on the Makos

(Media)

Feb 26, 2015

Baseball: Coral Gables Cavaliers vs. Columbus Explorers

(Story)

Feb 18, 2015
Feb 18, 2015
Feb 13, 2015

Junior Treat Day Photos !!!

(Story)

Nov 16, 2014

Boys Soccer: Gables vs Southwest

(Story)

Oct 25, 2014

Boys Soccer: Kicking It off to a Good Start

(Story)

Oct 23, 2014

SECME: The Not So Newest Club

(Story)

Oct 14, 2014

Bald Brothers: Shaving for a Cure

(Story)

Oct 07, 2014

Matthew Monjarrez: Rolling and Bowling

(Story)

Sep 25, 2014

Three Ideas to Get a Date to Homecoming

(Story)

Sep 15, 2014

Dash to Cav Crash!

(Story)

Aug 28, 2014
Aug 26, 2014

Mrs. Morrow: Teaching for a Better Tomorrow

(Story)