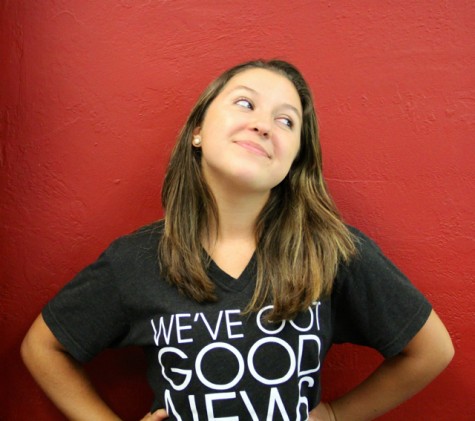 An IB senior at Gables, Sabrina Ochoa (commonly known as "Sab," "Sabi," "Sabu," "Bri," "NaNa" and even "Fab Sab" ) is a proud Cavalier. Despite her minuscule stature of
five whole feet
, Sabrina carries herself as if she's 10 feet tall. When asked to describe her, Sabrina's friends will never leave out her sass, perseverance or sarcastic tendencies.
In addition to being Editor-in-Chief of CavsConnect, Sabrina is Co-President of NHS, Vice President of Science Honor Society and one of Student Activities' Secretaries of Executive Affairs. This hardworking girl may seem like she's got it all figured out, but when it comes to college, she has no clue where to start!
Outside of school, Sabrina enjoys spending time with her family and close friends, because it helps her unwind after a long day's work.
Sabrina prides herself on being passionate about whatever she does, including her live-life-to-the-fullest lifestyle. Bucket lists may be cliché, but Sabrina strives to complete hers! First on her list: see the world.
Have a message for Sabrina? Contact her at
[email protected]
!
Sabrina Ochoa, Editor-in-Chief
Mar 31, 2016

College Application Readiness Symposium Registration Form

(Story)

Mar 13, 2016

NHS Spends Saturday Cleaning Campus

(Media)

Dec 01, 2015

SENIORS: Cap & Gown Dates Have Changed!

(Story)

Aug 31, 2015

Seniors: Make Sure You're on the Magazine List from This Summer!

(Story)

Jul 22, 2015

How to Calm the College Application Chaos

(Story)

Jun 11, 2015

Click here for information from the senior meeting!

(Story)

Jun 11, 2015

Click here for Prom & Homecoming Guest Applications!

(Story)

May 13, 2015

Incoming Cavs: Attend Freshman Orientation!

(Story)

Apr 26, 2015

CAF&DM Publications Take FSPA

(Story)

Apr 10, 2015

Need information on Graduation? Click here!

(Story)

Apr 08, 2015

Jessica Wang Harnesses the Cavalier Identity

(Story)

Apr 02, 2015

4 Things to Look Forward to in Spring

(Story)

Mar 08, 2015

Gables Recognized as Magnet School of Excellence

(Story)

Feb 23, 2015

Cavaliers Experience Harvard Model Congress

(Story)

Feb 13, 2015

Interested in joining a CAF&DM Publication? Click here to download an application!

(Story)

Feb 12, 2015

OB/GYN Visits for a Pro Chat

(Story)

Jan 20, 2015

Juniors Experience Thrills of Busch Gardens

(Story)

Dec 23, 2014

6 Seniors Awarded Posse Scholarship

(Story)

Dec 04, 2014

Gables 411: Hour of Code

(Story)

Nov 20, 2014

Out of State College Tour 2014

(Media)

Nov 20, 2014

Hey, juniors! Click here for info on the Junior Class Trip!

(Story)

Oct 30, 2014

Hey juniors, click here for a College Tour checklist and itinerary!

(Story)

Oct 27, 2014

The Fantasy Football Craze

(Story/Media)

Sep 19, 2014

Once a Cavalier, Always a Cavalier

(Story)

Aug 25, 2014

The MTV VMA's: Shock Factor

(Story)

Aug 23, 2014

Same-Sex Marriage to be Legalized in Florida

(Story)

Aug 12, 2014

Genie, You're Free: R.I.P. Robin Williams

(Story)

Jun 28, 2014
May 22, 2014

A Newly Made Tradition

(Story)

May 20, 2014
Apr 28, 2014
Apr 03, 2014

Foot Locker Scholar Athlete Scholarship Recipient, SENIOR COLE SCANLON!

(Media)

Mar 14, 2014

New and Improv-ed!

(Story/Media)

Feb 28, 2014

What Is A Cavalier? As told by Patricia Passwaters

(Story)

Feb 24, 2014
Feb 10, 2014

A Day of Adventures

(Story)

Feb 07, 2014

Three Seniors, Two Colleges, One Dream

(Story)

Jan 20, 2014

The City That Never Sleeps

(Story/Media)

Jan 13, 2014

Lucky Number Seven

(Story)

Jan 12, 2014
Jan 10, 2014

Inside Scoop: A Guy's Perspective

(Media)

Jan 06, 2014

Chill Out And Reach Higher: Relieve Your Stress

(Story)

Jan 02, 2014

Guy Code: Is he really "in" to you?

(Story)

Nov 29, 2013

All I Want For Christmas Is…

(Story/Media)

Sep 15, 2013

Open House: Meet & Greet

(Story)