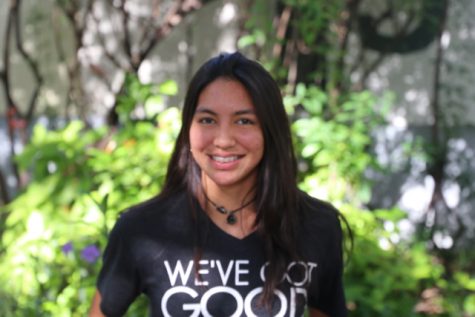 Paula Gonzalez is a senior in the International Baccalaureate (IB) program at Coral Gables High School. Coming from Per
ú her sophomore year, she quickly adapted to the Gables environment. 
She runs for the Gables' track, cross country and swims for Gables' swimming teams. Her hard working personality shines through her love for science and math. She is an active member of IB Honor Society, Future Business Leaders of America, National Honor Society, Interact, Health Corps, and Mu Alpha Theta. She is excited to be a senior and even more excited to go to college and major in Biology. She loves learning about different cultures and is creating a project called Gables' Flags. Peruvian food, surfing, and hard working are some characteristics that make Paula, Paula.
Paula Gonzalez, Staff Writer
May 01, 2018

El largo caso del "Atacante del Estado Dorado"

(Story)

Apr 29, 2018

Final de la dinastía Castro en Cuba

(Story)

Apr 04, 2018

Hackers se apoderan del 911

(Story)

Mar 24, 2018

Paquetes bomba aterrorizan las calles de Texas

(Story)

Mar 17, 2018

Premios musicales iHeart Radio 2018

(Story)

Mar 10, 2018

¿Cuánto tiempo nos queda en la Tierra?

(Story)

Feb 28, 2018

Al Otro Lado Del Muro

(Story)

Feb 23, 2018

Elecciones Estudiantiles 2018

(Story)

Feb 12, 2018

Más allá de la galaxia Milky Way

(Story)

Feb 08, 2018

Grammys 2018 : Lo mejor y lo peor

(Story)

Jan 29, 2018

Incertidumbre para DACA

(Story)

Jan 28, 2018

El gobierno cierra sus puertas

(Story)

Jan 09, 2018

La amenaza del Ciclón Bomba

(Story)

Dec 18, 2017

Tren descarrilado en Seattle

(Story)

Dec 12, 2017

Terror en Nueva York

(Story)

Dec 08, 2017

Plan fiscal poco popular

(Story)

Dec 04, 2017

Respeto para los rohingyas

(Story)

Nov 16, 2017

Suelos de Irán sacudidos por terremoto

(Story)

Nov 14, 2017

XC Takes on State Championships 2017

(Story)

Nov 06, 2017

Kevin Spacey: Víctima o Culpable

(Story)

Oct 26, 2017

Educación ante todo en Puerto Rico

(Story)

Oct 23, 2017

Un Mundial Poco Usual

(Story)

Oct 12, 2017

Trump descontrola el control

(Story)

Oct 11, 2017
Oct 02, 2017

Travesía hacia la victoria

(Story)

Sep 21, 2017

¿Será El Fin del Pacto Nuclear con Irán?

(Story)

Sep 10, 2017

Miami Nos Dio la Espalda

(Story)

Sep 01, 2017

Samsung Tras las Rejas

(Story)

Aug 27, 2017

Florida Gators Tackle New Season

(Story)