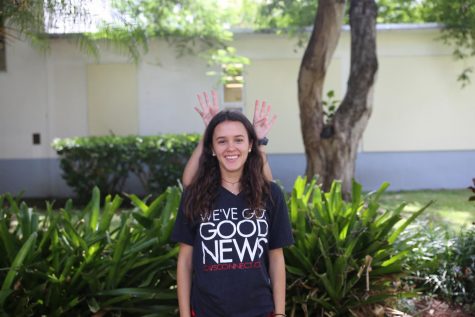 Natalia,"Nati", Torres is a senior in the International Baccalaureate (IB) program and is very excited to continue at Gables as part of the CavsConnect staff. Apart from her involvement in CavsConnect, Nati is President of Gables Earth, secretary for the Senior Class Board and manages the school's coral lab.
Aside from her involvement with the school, Natalia enjoys volunteering at Shake-A-Leg, spending time with her friends and practicing yoga. She enjoys learning and is always looking for ways to expand her knowledge about the world.
Natalia has a passion for protecting the environment and hopes to one day pursue a career as an environmental lawyer in New York City.  Although she is usually busy with school, she always finds time to be with her family, her friends, and her two cats, Figaro and Gaby.
Natalia Torres, Copy Editor
Nov 24, 2018

Woofing On Sunshine: Activities To Do With Your Pet

(Media)

Apr 19, 2018

A Brief Lesson on the Second Amendment

(Story)

Feb 16, 2018

Bridge 4 Peace Succeeds in Raising Money for BLUE Missions Organization

(Story)

Feb 06, 2018

Class of '67 Donates $16,000 to their Alma Mater

(Story/Media)

Jan 11, 2018

A Culture of Complicity

(Story)

Sep 26, 2017

Celebrities in Politics: Where Do We Draw the Line?

(Story)

Aug 07, 2017

Inside Coral Gables' Legal Battle Against Social Media Giants

(Story)

Jul 27, 2017

White House in Turmoil Following Sean Spicer's Resignation

(Story)

May 24, 2017

Ashley Bellinger Silver Knight

(Story)

May 20, 2017

The Comey Controversy

(Story)

May 10, 2017

Updates: North Korea in the Today's Political Atmosphere

(Story)

May 10, 2017
May 08, 2017

Documentary Filmmaker Takes On Republican Congress

(Story)

Apr 10, 2017

Tragedies: April 2 – 8

(Story)

Apr 05, 2017

Nepotism in the White House?

(Story)

Mar 28, 2017

New Technology May Help Predict Suicide

(Story)

Mar 17, 2017

President Trump's Affordable Health Care Act

(Story/Media)

Mar 13, 2017

President Trump Fires Holdover Prosecutors

(Story)

Mar 05, 2017

Harvard Model Congress 2017

(Story/Media)

Feb 17, 2017

Annual Bridge 4 Peace Joins Best Buddies

(Story)

Feb 14, 2017

Trump Gets Trumped

(Story)

Feb 02, 2017
Feb 01, 2017

Terrorist Attack in Canada

(Story)

Jan 26, 2017

Boycotting Trump's Inauguration

(Story)

Jan 11, 2017

What the Fort Lauderdale Shooting Could Mean for Hispanics

(Story)

Dec 14, 2016

Art Basel: Taking the Art World By Storm

(Media)

Dec 11, 2016

How To Be a Super Secret Santa

(Story)

Dec 09, 2016

Earthquake in New Zealand

(Story)

Nov 28, 2016

Mike Pence at Hamilton

(Story)

Nov 14, 2016

What You Need to Know About the Dakota Access Pipeline

(Story)

Nov 04, 2016

The First 100 Days

(Story)

Oct 30, 2016

Ms Cheezious: Grilled to Perfection

(Story)

Oct 20, 2016

Clinton versus Trump: The Final Showdown

(Story)

Oct 06, 2016

First Presidential Debate

(Story)

Sep 26, 2016

New York and New Jersey Bombings: What We Know

(Story)

Sep 17, 2016

UberEATS vs. Postmates

(Story/Media)

Sep 14, 2016

Fred Swaniker's 'Harvard of Africa'

(Story/Media)

Sep 10, 2016

Reports of Touch Disease Surge

(Story)

Sep 01, 2016