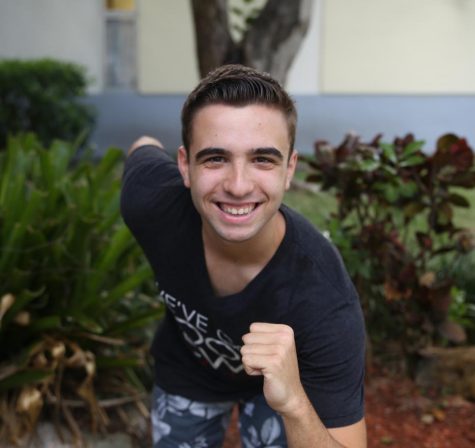 Daniel "Danny" Toll, is a junior in the International Baccalaureate (IB) program. He is a down-to-earth, outgoing, and dedicated guy who has a broad variety of passions that extend beyond athletic fields and sports. Danny is a passionate baseball and basketball fan and a film enthusiast, especially when it comes to Marvel and Star Wars. Although he used to play piano as a child, he has been playing guitar over the past two years. On his free time, you will often find Danny at the gym, at a Marlins game, or volunteering. 
Although he is still unsure of what his future holds, he would like to pursue a career in either sports medicine or sports journalism at the University of Miami
. Throughout the school year, 
Danny hopes to enhance his high school experience by being a part of several school clubs, such as IB Honor Society, Gables Earth, Best Buddies, and Key Club as he embarks upon his second year on the CavsConnect Team!
Daniel Toll, Sports Editor
Jul 03, 2019

Free Athletics Physical – Tuesday July 16th

(Story)

May 30, 2019

The Graduation of a Generation

(Story)

May 14, 2019

Class of 2020: Senior Gear Form

(Story/Media)

May 06, 2019

Lady Cavalier Softball: A Six-Year-Long Dynasty

(Story)

Apr 28, 2019

El equipo de softball continúa su racha ganadora

(Story)

Apr 28, 2019

Avengers: Endgame – A Global Cinematic Phenomenon

(Story)

Apr 22, 2019

Is Star Wars On the Cusp of A New Hope or Its Ultimate Downfall?

(Story/Media)

Apr 16, 2019

The CAF&DM Students Attend FSPA in Orlando

(Media)

Apr 04, 2019

The Final Four March Into April!

(Story/Media)

Mar 18, 2019

Captain Marvel: A Marvelous Origin Story

(Story)

Feb 21, 2019

It's Time to Play Ball! Cavalier Baseball is Back in Action

(Story)

Feb 06, 2019

Staying on Track and Playing the Field

(Story/Media)

Jan 26, 2019

Athlete Spotlights: AJ Vazquez and Angelina Bonilla

(Story)

Jan 26, 2019

A Cavalier With a Badminton Attitude

(Story)

Dec 19, 2018

Heated Matchup Between Cavaliers and Explorers Ends in a Stalemate

(Story)

Dec 15, 2018

Athlete Spotlights: August Field and Mia Crabill

(Story)

Dec 15, 2018

Leaving It All Out On the Field

(Story)

Nov 30, 2018

Gables Hosts Special Olympics Basketball Competition

(Media)

Nov 15, 2018

In Memory of a Marvelous Life

(Story)

Nov 05, 2018

A Kickoff to Cavalier Soccer

(Story)

Oct 11, 2018

Fifth Time's A Charm: Girls Volleyball Wins on Senior Night

(Media)

Oct 05, 2018

Take Me Out to the MLB Playoffs

(Story)

Sep 26, 2018

A Battle for Miami: UM vs FIU

(Story)

Sep 06, 2018

To Play or Not to Play: Sports at the Collegiate Level

(Story)

Sep 03, 2018

A Selfie a Day in the Life of Alexander Sutton

(Story/Media)

Aug 20, 2018

An Education With a Promise

(Story)

Jul 24, 2018

Summer X Games 2018: Extreme Athletes, Extreme Sports

(Story)

Jul 20, 2018

World Cup 2018 Finalized With French Triumph, Croatian Tears

(Story)

Jun 12, 2018

The Golden State Warriors Bring Out the Brooms

(Story)

May 26, 2018

Christian Brown Signs With Manhattanville College

(Story)

May 23, 2018

The Journey of a King

(Story)

May 15, 2018

A Bitter End to a Magnificent Season

(Story/Media)

May 14, 2018

Athlete of the Week and State Champion: Cavan Wilson

(Story)

Apr 27, 2018

Heat Eliminated by 76ers in Game 5

(Story)

Apr 05, 2018

Badminton to the Bone

(Story)

Apr 02, 2018

Lead the Pack! Run Track!

(Story/Media)

Mar 18, 2018

Swimming With a Purpose

(Story)

Mar 09, 2018

Shaquem Griffin: Single-Handedly Inspiring the World

(Story)

Feb 21, 2018

When Life Gives You Lemons: Coral Gables Baseball

(Story)

Feb 10, 2018

NBA All-Star Game: Team LeBron vs Team Steph

(Story)

Jan 01, 2018

Intense NBA Rivalries Light Up Christmas Day

(Story)

Dec 19, 2017

Going, Going, Gone! Marlins "All-In" With Firesale Rebuild

(Story)

Nov 26, 2017

M-V-P: Giancarlo Stanton's Historic Campaign

(Story)

Nov 26, 2017

The Mighty Hurricanes Blow Away Notre Dame

(Media)

Nov 10, 2017

Kevin Harvick: Revving His Way to South Florida

(Story)

Oct 23, 2017

Derek Jeter Catches the Miami Marlins

(Media)

Oct 12, 2017

Pumpkin Spice and Everything Nice: Fall Activities

(Media)

Oct 10, 2017

University of Miami Football: Better Late Than Never

(Media)

Oct 09, 2017

Free Athletics Physical- Wednesday October 11th

(Story)

Oct 02, 2017

It's Time for October Baseball!

(Story)

Aug 25, 2017

New Head Coach Ernie Padron Joins Cavalier Family

(Story)

Aug 02, 2017

Wimbl8don: Federer Rewrites History with Eighth Title

(Story)

Jul 28, 2017

The Sky is the Limit: Chris Froome Wins Fourth Tour de France Title

(Story)