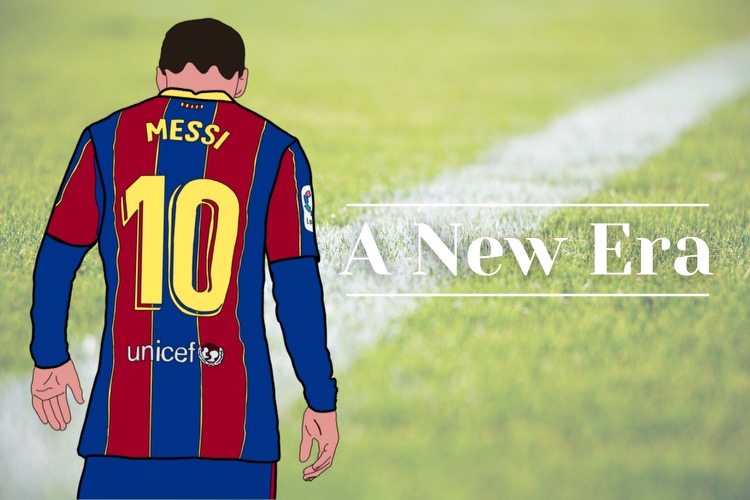 Anthony Abrahantes
After 21 years of service, Argentinian soccer player Lionel Messi has left Futbol Club Barcelona. Announced on Aug. 5, 2021, Messi's plans to leave Camp Nou are against the wishes of both the club and the player. During his time at the club, Messi cemented his legacy as one of the greatest soccer players of all time, helping the club win 35 trophies as well as winning seven Ballon D'ors for his individual performances while at the club.
For a majority of Barcelona supporters, Messi's departure is a nightmare as he is the face of the club and plays a significant role in the success of the club. There was hope for Barcelona's future when Messi resolved to stay with the club after he became a free agent on July 1, 2021, when his contract expired. However, his decision to stay would become impossible as a result of Barcelona's financial mismanagement and the Spanish league, La Liga's regulations on player registration.
Barcelona's financial issues stem from the club's 1.4 billion euro debt as well as La Liga's salary restrictions forcing them to reduce their wage bill by 230 million euros. Although Messi offered to sign a contract that would see him earn 50% less than his previous contract, Barcelona would be barred from registering new players until their wage bill was reduced, which has unfortunately not yet been accomplished.
As a result, Messi looked to join another club. This would be an insurmountable loss for Barcelona as Messi was a crucial source of income for the club, responsible for 80% of t-shirts sales, raising revenue through ticket sales and attracting lucrative sponsorship deals for the club. With Messi's immense influence in the world of soccer and his large wage demands, the only club that could reasonably sign the player was French giants Paris Saint-Germain.
Messi joined PSG on Aug. 10, 2021, on a two-year contract which would see him earn between 30 to 35 million euros per year, immediately becoming the club's highest-earning player. While the soccer world is focused on the upsetting nature in which Messi left Barcelona, the possibility of Messi joining PSG is extremely promising and exciting.
"As a PSG fan I am super excited to have the best player of all time join the club I support," senior Felix Audouze said.
Messi joins a star-studded roster at PSG, including former Barcelona teammate Neymar Jr., promising young player Kylian Mbappé and a plethora of fellow new signings. However, Messi's transfer to PSG is not only beneficial towards the future of PSG as it also impacts all of the French soccer league, Ligue 1.
"Messi's transfer does not only impact PSG as he brings much-needed attention and support towards Ligue 1 which can help other clubs improve as well," senior Isaac Zerdoun said.
In a similar fashion to the transfers of superstars Neymar Jr. and Zlatan Ibrahimovic in the past, Messi could bring much-needed attention and money to the French Ligue 1, which is considered much less competitive than leagues such as England's Premier League and Spain's Liga Santander. The success of this deal could help Ligue 1 become more competitive and desirable, which could increase the popularity of soccer as a whole and provide more opportunities for young soccer players.
[powr-twitter-feed id=224eecd5_1630258963005]