Can the Lady Cavalier Softball Team Steal the 2020 Season?
With spring in full bloom, the Lady Cavalier Softball team has been working hard and dominating their 2020 season. So far, they have been unstoppable and they have no intention of slowing down.
Their first game of the season was on Feb. 19 against the Keys Gate Knights. After seven demanding innings, it resulted in a win for the Knights with a total score of 9-1. Even though they lost, the team still did phenomenal with fielding, with the majority of the team ending with a 1.000 fielding percentage. Although this was not the way they hoped to start their season, they hope to learn from their mistakes and dominate in future games.
On Feb. 21, the varsity team had their second game of the season against the Southwest Eagles on their home field. The game got off to a slow start, but by the third inning they got three runs and by the end of the game they won by a landslide of 5-0. Sophomore Victoria Alfaro had the highest batting average with 1.000 and brought home 2 points for the team. This game was a turning point for these ladies, proving to themselves they can dominate the field with ease.
Continuing their hot streak, they blew out the Coral Park Rams on Feb. 25 with a total of 15-1 on their home field.  Captain Angelina Bonilla helped lead this team to victory by doing outstanding in both fielding and batting. For fielding, she ended with a fielding percentage of 1.000 and had 9 put-outs out of 9 total chances. For batting, she ended with the highest on-base plus slugger percentage with a percentage of 2.417 and 2 runs.
"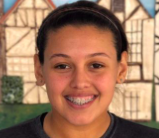 Right now we have a pretty young team so we are still getting used to working together, however, on games that counted we were able to come together and win,
— Captain Angelina Bonilla
After two huge wins they hoped to keep the winning streak going on Mar. 3, however, after 7 grueling innings, they lost against the Florida Christian Patriots by a score of 10-1. Although they lost, the team still had great stats in terms of fielding. The majority of the team ended with a 1.000 fielding percentage and senior Angelina Bonilla had 9 put-outs out of 9 total chances.
"We definitely need to keep working on the little things, like, catching, throwing, making sure we are always covering a bag, our energy levels and our ability to stay in the game mentally," Captain Sydney Pell said.
The following day they had another game at home against the Southridge Spartans. At first, it was a tight game with the score only being 3-3 in the third inning, but then senior Angelina Bonilla was up to bat. She scored a homerun securing four more points for the team in one inning giving them the upper edge they needed to win.
After a rough start, the Lady Cavalier Softball team found their footing and were able to command the field. Overall, they have a score of 4-2, and they only plan on receiving more points in the win column from now on. Their next chance for a win is on Mar. 10, on their home field against the Miami High Stingarees.