Cavalier Wrestlers Own Regionals and Aim to Crush It at States
Marching into the tough spring season, the Cavalier wrestlers are only adding some spring to their step. At the beginning of the 2019-2020 school year, the Coral Gables campus has been under construction, which has been the biggest obstacle for the Cavaliers. Their usual practice location, which was commonly referred to as the "old cafeteria," was recently demolished in order to make space for future projects. Despite this, they have been resilient and made ends meet by practicing in the cafeteria in the Ralph Moore building. Although it does not offer the same amount of room as their old practice location, they have been hurdling this obstacle like a championship team.
"Moving locations was a challenge for the whole team. Now, we pretty much bump into each other due to the poor conditions that we practice in, so trying to adapt to the new space was a rough start," junior Jose Cardenas said
To make matters more difficult, the Cavalier wrestling team had their district rearranged, leading to the best schools in the district facing off more often with Gables. With that, the team knew they had to put 110% everyday in practice to show that they are not the weak links in the district.
Junior Jose Cardenas is a firm believer that playing a sport is only as difficult as the amount of work you are willing to put into it in order to improve. That is the attitude that motivates him every time he steps on the mat and faces off against his opponents.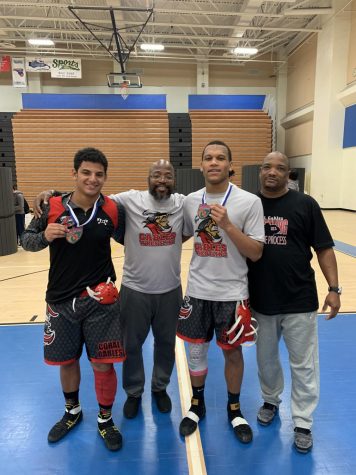 Despite the giant hurdles in front of them, Cardenas and senior Sebastian Rodriguez managed to earn a spot in the regional tournament that went on from Feb. 28 to Feb. 29 at G. Holmes Braddock High School, where the best wrestlers across the district gather and compete against each other. Cardenas's record this season was 32-14, proving his talent and love for the sport.
Entering the tournament, Cardenas recalls feeling mere anxiety, but remembered to compose himself. He won the first match that he participated in, despite still having that anxious feeling in the back of his mind.
Cardenas felt that he wrestled much better during his second match-up, but lacked mat awareness and unfortunately, ended up losing his second match. In his third and final match, Cardenas locked in and was able to secure a great victory, which allowed him to advance to the second day of the tournament.
On the second day of the tournament, Cardenas managed to wrestle his way into the fourth and third place games. From there, he was able to get the edge on the match and beat Cypress Bay to earn third place for the regional tournament.
As for his partner, Sebastian Rodriquez also had a good outing in the tournament. On his first day, he was matched up against a familiar foe and was able to pin his opponent in just three quarters. His second match went just as well, except for the fact that he managed to pin his challenger in just 47 seconds, which allowed him to move onto the second day of the tournament.
"My goal is to pin someone as quickly as I can so that I do not tire myself out for the next match. It is a pretty straight-forward plan and I have stuck with it for a long time," senior Sebastian Rodriquez said.
On Rodriguez's second day, he also had the opportunity to wrestle a student from Cypress Bay for a chance at fourth and third place. He wrestled hard and worked all season for this moment, and won the match that earned him third place and a spot at the state championship competition with Cardenas.
All in all, it was a great experience for both wrestlers. They showed that hard work and perseverance always leads to progression and their standings in the tournament showed it. Wrestling is definitely one of the most physically demanding sports and even though the entire team faced their struggles along the way, the team had a strong ending to another great year for Coral Gables Wrestling.