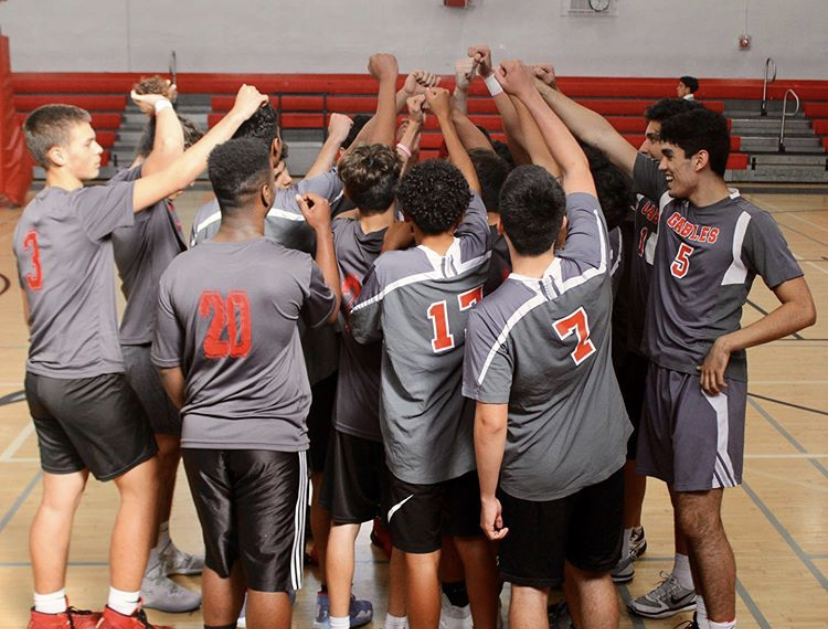 Maya Shah (highlights)
Coral Gables Senior High school's boys' volleyball team is back and ready for action. After waiting for countless months and watching the girls play from the sidelines back in the fall season, it is time for them to dominate the hardwood and show the other boys how to get the job done.
The Cavaliers have only been practicing since Feb. 21, a week before their season started. This was due to the fact that coach Govea has been preoccupied with the basketball team, making it difficult for him to manage both teams at the same time as the basketball season is not over yet. However, some members of the team decided to take it upon themselves to practice prior to the spring season in order to stay in shape.
An everyday practice for the boys volleyball team usually consists of hand-eye coordination, reaction time and jumping drills to ensure that the Cavaliers are agile and powerful when they hit the court. The Cavaliers have also been training by running scrimmages against each other in order to develop strategies that they can use to sabotage their opponents' offense during regular season matches.
One returning member of the team is senior Rodney Michel, who has been competing with the team since his sophomore year. As his tenure with the Cavalier Volleyball team comes to an end, Michel aims to compete to the best of his ability during his final season. Optimistically, Michel hopes that the skills he has acquired over the years can give his team the upper edge this season.
Their season officially started on Feb. 27 on the Cavaliers' home court against the Ransom Everglades Raiders. The Cavaliers put up a strong fight, countering the Raiders' offense left and right. Unfortunately, it ended in the Raiders' favor as they won three sets in a best of five match. It was a tough three sets for the Cavaliers, only scoring 12 points in their highest-scoring set.
Although they were defeated, the Cavaliers hope to learn from this experience and continue to work hard in practice to turn their season around. Coach Govea wants the team to use this loss as fuel to inspire them to work together and play hard for the fans in the stands.
"Our first game showed us that communication, spiking, and blocking are our weak points when we play the game. However, with more time and practice, I believe we will no doubt see better results," sophomore Diego Moran said.
The Cavaliers' next shot at redemption is on Mar. 5, as they take on the Varela Vipers. Now, with more practice and game experience, this team is determined to be ready for anything else that the 2020 season will throw at them.