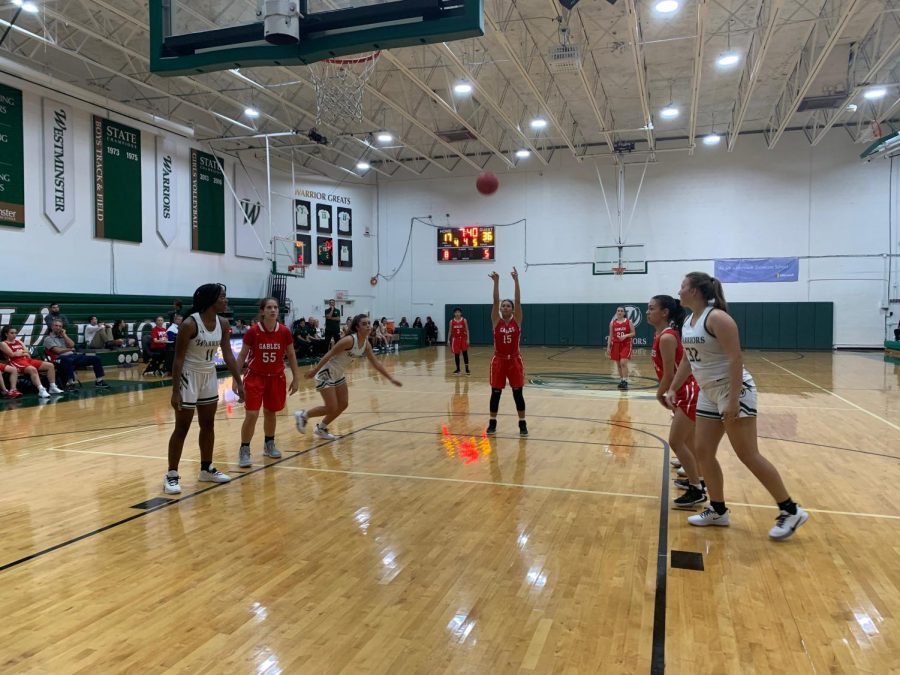 Audrey Simon
This winter season, the Lady Cavaliers Basketball teams are off to a piping hot start. Both the junior varsity and varsity teams are undefeated and are playing at such a high level that they do not seem be slowing down anytime soon. All of the countless hours of practice in the gym after school have led the Lady Cavaliers to their most polished game ever. They are undefeated to start the season and are averaging nearly 50 points a game. The Lady Cavaliers have competed in four games so far, and almost all of them were won by a landslide.
The Lady Cavalier varsity team's first game was on Nov. 2o against the Coral Park Rams in the Cavalier gym. The game was a huge success for the Cavaliers, winning a blow-out-game with a final score of 53 to 9. The Player of the Game was junior Madeline Cohen, who notched a triple double, an incredibly tremendous feat, earning 19 points, 11 rebounds, and 10 blocks. Captain Kassandra Mendez followed Cohen's dominant performance with a total of 16 points and 6 steals. This game definitely got these girls off to a great start.
"For our game opener versus Coral Park, I managed to get a triple double. Although I feel like I could have gotten more points and blocks, I think I played well. Getting a triple double was a great way to start the season and I hope to try to keep that same energy level throughout the season," junior Madeline Cohen said.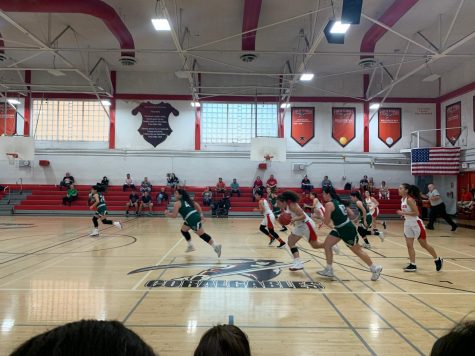 The Lady Cavaliers played their second game on Nov. 25 against the Ronald Reagan Bisons at home. The Lady Cavaliers got away with a final score of 44 to 21. Their top scorer was captain Kassandra Mendez who totaled a game-high 2o points and 7 rebounds.
The thrilling game was filled with beautiful passes and forced turnovers by the Lady Cavaliers. Captain Kaitlyn Cruzata led the defensive charge with a team-high 8 steals.
On Nov. 26, the Lady Cavaliers played their third game of the season against the St. Brendan Sabres to end their three-game home stretch. The game was very close and had all of the fans on the edge of their seats, ending in a thriller with a final score of 39 to 37 in the Lady Cavaliers' favor.
Every quarter was toe-to-toe with both teams only four points apart, but the Lady Cavaliers dug deep and took the game for themselves. Kassandra Mendez nailed the go-ahead lay up to seal the win for Gables, leading the charge with 8 points on the night.
The junior varsity squad played their first game on Nov. 26 as well, going against the St. Brendan junior varsity Sabres. The game was handled the entire time by the junior varsity Lady Cavaliers, dominating 53 to 21. Sophomore Nicole Martinez broke out for 18 points, along with freshman Audrey Simon who comfortably scored 15 points in her debut.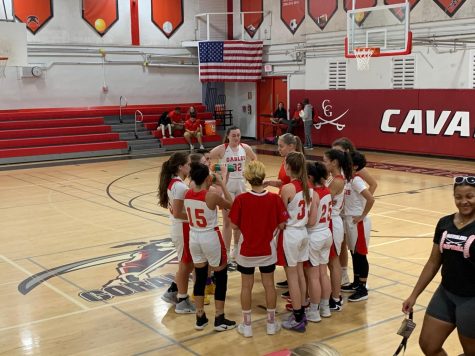 "So far, the junior varsity team has been doing well. We have won both of our games so far. We still have work to do, though, as we have tough opponents to face like Miami High. The unfortunate part about junior varsity is that many schools do not have teams, so we will not have as many games as varsity and we will not gain the experience. Either way, our team is doing really well, and we hope to continue the season with an undefeated record," sophomore Jasming Senel said.
The varsity team's fourth game took place on the road on Dec. 3 against the Westminster Warriors. The Lady Cavaliers demolished Westminster, almost doubling the Warriors' final score with a 52-27 victory.
Captain Kassandra Mendez showed no mercy, scoring a game-high 16 points. One player that really complimented Kassandra's performance was senior Graciela Morejon, who showed tremendous heart with a 10-point performance in a very fast-paced game with many fast breaks and tight cuts to the basket.
To double the trouble for the Warriors, the junior varsity team took on the Westminster girls' junior varsity squad. It was a tight game where the Lady Cavaliers played with tremendous effort to find a way to win with a final score of 36 to 30. Junior Catherine Pasternac totaled 9 points, while freshman Audrey Simon put up 8 points and 9 steals.
So far, this season has been quite eventful for both of the Lady Cavalier teams. Both teams have had blowout games where they dominated, showcasing their skills, which were mastered during their countless hours of practice. There have been some tight games, but both teams have never given up and continue to be relentless. The Cavalier community hopes to cheer the ladies on as they ride this streak all the way until they become district champions.