Serving Up a Winning Volleyball Season
A wise Lady Cavalier once said: "What rises up inevitably falls down". Unfortunately, the 2019-2020 Lady Cavalier Volleyball campaign has come to a close. These young athletes have been lifting each other up and building strong bonds ever since the summer began. However, the thrill of it all comes to an imminent end. The memories of spiking the volleyball and getting all the clutch passes live on in the hearts of the Lady Cavaliers and those who cheered them on in support.
Both the varsity and junior varsity Lady Cavalier teams got off to a great start this season. They both won blowout games against the South Miami Cobras in their home opener.
One of their spectacular wins was against the Miami High Stingarees. In a tightly fought competition, the Lady Cavaliers did not lose sight of their game, outscoring the Stings three sets to two, coming out on top. Emma Hardie led Gables with her drive and relentless hustle, totaling seven kills and 15 digs.
The Lady Cavaliers showed their enthusiastic nature even through some of their more devastating losses. In a game against their rival, Miami Beach Senior High, the girls lost all of their sets. However, Renata Ruiz racked up 15 digs, 3 assist, 2 aces, and 3 saves, winning player of the game for Gables. Despite the fact that they lost, the Lady Cavaliers are hopeful about taking them down next year.
"We worked and we played hard. Even though we didn't win all the games we were expecting to, we still made it to district semi-finals," said senior Marina Tischenkel.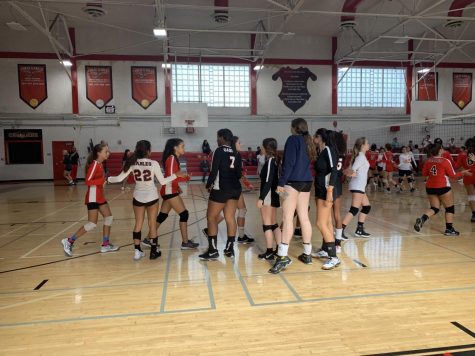 Sadly, there are a couple of seniors who are graduating from the team this year. Many students in the Cavalier family came out to support them during their senior night game.
The game was held in the gym against the Mast Academy Makos. Although they lost 3-1, the seniors held their heads high and enjoyed their final moments on the volleyball team with their peers cheering them on. They never gave up and showed tremendous heart. Collectively, the Lady Cavs tallied 23 kills and 74 attacks, making it an exciting last game for these seniors.
"Senior night was so much fun to watch; I really enjoyed cheering our team on. Even though we did not win, I was still screaming and shouting for our team until the last point was made," freshman Sophie Gonzalez said.
These Lady Cavaliers showed a lot of heart and strength this season. Overall, they had seven wins and eight losses, which landed them in district playoffs. Despite the fact that they did not advance any further. they had a great season.
While many of the senior Lady Cavaliers will not return to play volleyball next season, the returning girls look to improve upon what was initiated by the seniors and make them proud. Next season, the Lady Cavaliers are going to do it all once again and, hopefully, in an even bigger and better fashion.