The Sprint to the Finish Line Begins: Gables Cross Country
The fall sports seasons have just begun, and the Cavalier Cross Country team is prepared to dominate the courses this year. The runners on the team have been practicing non-stop since the summer, getting a head start on the season, and they are all very psyched to begin the season alongside their cross country coach, Scott Nelson.
One of the team's more experienced runners is senior Colin Wilson. Wilson is distinguished in the realm of local and national sports for his outstanding athletic abilities, particularly excelling on the swimming, cross country and track and field teams for Gables. Wilson participated in the 2019 USA Triathlon Age Group National Championship, ultimately emerging victorious. Coach Scott Nelson and his teammates have very high hopes for him this year.
"I am excited for this season because I am ready to help build up our team, since a lot of talented athletes graduated last year. I want to help them be the best that they can be," senior Colin Wilson said.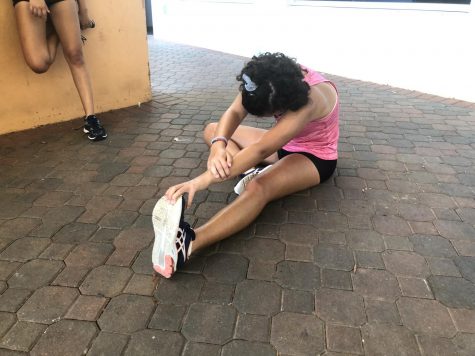 Last year, the Cavalier Cross Country team lost its core, which mainly consisted of seniors who have graduated. Luckily, there is an influx of  freshmen who are ready to show off their athletic abilities on the courses. One of the newest runners is freshman Isabella Velazquez. She is coming in strong; with her prior experience in the Miami Elite Track Club, she is prepared to excel in her first meet with Gables. 
"I'm very excited to try something different than the usual circles we do for [track and field]. I love long distance running and I'm excited to finally be competing in it," freshman Isabella Velasquez said.
The cross country runners have showed their resilience through daily practices dating back to the week prior to the opening of schools. Even when it rains, the team has been meeting up in the hallways at school and getting their workouts in. Not even unfavorable weather can stop their determination to win.
A typical Gables Cross Country practice usually begins with a warm-up, nothing shy of a mile run. Afterwards, the runners stretch as a group, performing dynamic stretches to condition their muscles. They follow with their true workouts, and they waste no time jumping right into their three-mile run.
Coach Nelson is looking forward to this year's season, as always, and he is very pleased with his players' effort in practice.
"As always, our goal is to win the district title. I believe we have a strong group of runners that can hopefully achieve that, " Coach Nelson said.
With all of their hard work, optimistic attitudes and fresh talents, the Cavalier Cross Country team is looking forward to an eventful season this year. Fortunately, due to an early start, the team is already miles ahead of their competition. The Cavaliers will look to prove their worth and exert their dominance during the first meet of the season, which will take place on Sept. 6. Be sure to wish your Cavaliers luck throughout the 2019-2020 cross country season!