Athletes of the Week: December Edition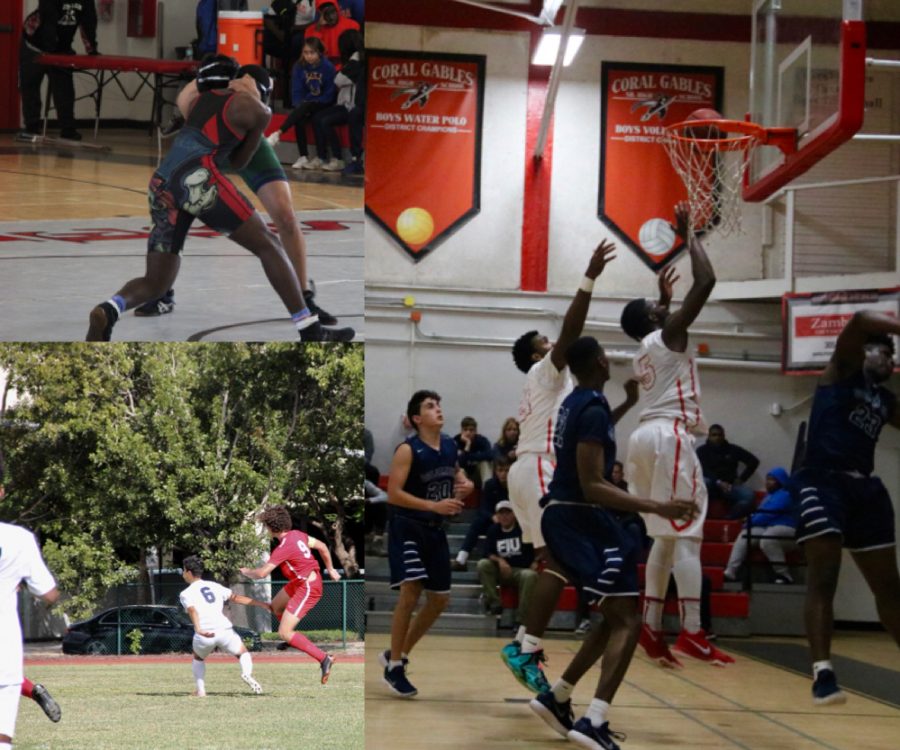 Throughout the month of December, a number of Gables' winter sports teams lived up to their expectations, trying to close out 2018 strong and finish high in their respective standing. As the end to the first half of the academic year neared, several athletes, stood out among all the rest for their impressive achievements and accomplishments on the field, mat, and court. The spotlighted athletes below were recognized school-wide as Athletes of the Week for their exceptional performances throughout December. The recipients of the title are further commended for the hard work, time and effort that they pour into their passions, constantly striving for success.
Week of Dec. 2-9
Leading striker for the Cavalier Boys Soccer team, John-Mark Kellogg aided his team by scoring two goals and having an assist in the two different games the team played throughout this time span. This remarkable feat not only enabled the team to go 2-0 that week against Southwest and Miami High but also resulted in him being named Athlete of the Week. John-Mark is an outstanding teammate, known for his dedication and commitment, and is very respected among the other players.
"
It always feels good being awarded for your accomplishments. When I am recognized, not only does it make me feel proud, but it motivates me to keep on getting better and improving every week."
— senior John-Mark Kellogg
Week of Dec. 9-16
Senior Fashawn Renejuste was recognized as Athlete of the Week during this week in December for his outstanding performance in both of his wrestling matches. Facing opponents from both Killian and South Miami, Renejuste pinned both foes, finishing 2-0, helping the Cavalier Wrestling team win those matches.
"It felt great knowing that I went out there on the mat and executed for the team, and I am also honored to have been named Athlete of the Week by the school," senior Fashawn Renejuste said.
Week of Dec.16-23
During this week, senior Nathan "Nate" Walker led the Cavalier Boys Basketball team to a series of three victories against Southwest, Ferguson and Miami High. Within those three games, he averaged 15 points, five assists and five steals, carrying the team through a 3-0 week. Nate is known around school for his hard work and commitment to the team.
"Being named Athlete of the Week meant a lot because it means that people are recognizing the hard work [he] puts in," he said.
Also in this week, senior Kevin Espinoza was recognized for his outstanding performance with the Cavalier Boys Soccer team in their game against Coral Park. In just that game, Espinoza scored three of the five goals in the team's 5-0 victory, bringing home another win for the school.
---
Each of the above-mentioned athletes deserves this award and recognition from the school, as all of the hard work, time and effort they pour into their sports shows through their game-play. Make sure to congratulate these athletes for their endeavors and wish them luck throughout the remainder of each of their seasons!
About the Contributors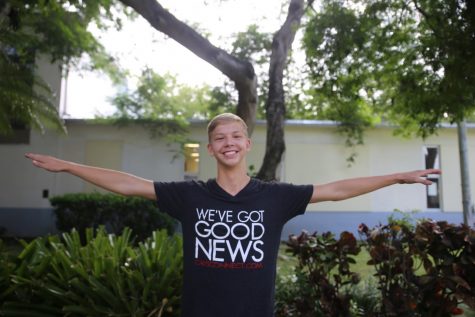 Trey Riera-Gomez, Staff Writer
Trey Riera-Gomez is a senior in the International Baccalaureate (IB) program at Coral Gables Senior High School. This being his first year involved, he...