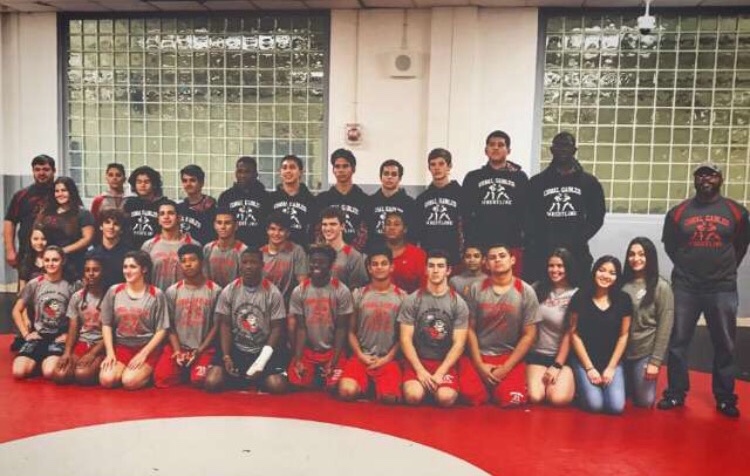 Cavalier Wrestling
Wrestling, the intense and strenuous sport widely renowned for its requirement of great physical skill and strength, is one that has been developing for thousands of years. With records of the sport dating back to the year 10,000 B.C.  in early Egyptian societies, wrestling gained its current popularity as a result of its implementation into the Greek and Roman societies as a competition. It became a prominent event in the Olympic Games due to its difficulty and raw brutality and has maintained its position in the games ever since, although much of the violence has been phased out.
Today, wrestling is a sport that has expanded into an international community with millions of followers and supporters, and one that welcomes all, no matter the size or skill.
The sport itself is an entirely combat-oriented one, in which the competitors use a variety of grappling and hand-to-hand combat techniques with the objective of subduing the opponent and essentially obtaining control over them in a way they cannot free themselves from. This ultimate control is referred to as a "pin," and, technically speaking, is when one opponent has forced the other's shoulder blades to touch the ground. Over the years, countless techniques have been invented and perfected in order to succeed in the sport, such as take-downs and clinches.
"Wrestling is a very tough sport that develops mental toughness and teaches its athletes about self-discipline, control, and the benefits of dedication. It's one of my favorite sports that I've ever participated in because I learned so much from it, and now as just a supporter of the team I love seeing how the athletes have bonded and developed," senior Matthew Wagner said.
Despite wrestling being such a world-renowned and respected sport, here at Gables it has built a more quiet name for itself. However, despite its small participant size, it may be the single most difficult sport in school, requiring immense physical strength and mental toughness. Gables wrestlers practice five days a week in the cafeteria, where they move aside the tables and roll out the wrestling mats. During practice, they work on technique, learn new moves, and then execute what they have learned in matches against each other. Aside from this, wrestling is a sport that demands incredible amounts of cardiovascular endurance, due to the constant exertion of strength in order to overcome an opponent.
This year, Gables' wrestling is already heating up, with the team starting off at a great record at 4-1. In their last few match-ups, the team has competed against, and defeated, Killian, Hialeah, Miami Lakes, and South Miami in different weeks, with their only loss coming to Coral Park. Specifically, regarding the individual aspect of the sport, Gables has had several wrestlers perform very well throughout these tournaments. Senior captain Douglas Ponce, for example, went 2-0 in his matches against South Miami's 170 weight class wrestlers, and senior Fashawn Renejuste went 2-0 on two pins against South Miami and Killian, resulting in him being named Athlete of the Week at Gables.
Ultimately, Coach Hardy and all of this year's wrestlers are expected to make a big splash in the wrestling community, pushing through their adversaries with discipline, skill and determination. On behalf of Gables, we wish you the best of luck. Go Cavs!