It's a Marathon and a Sprint: Eliud Kipchoge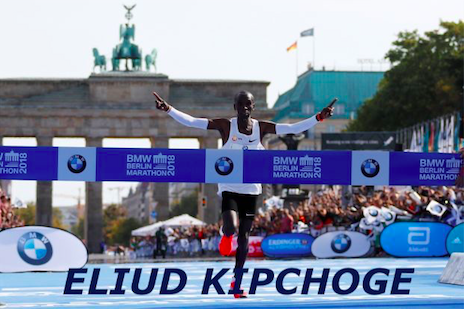 The sun shines down on Berlin as runners anxiously wait at the starting line of the Berlin Marathon. Suddenly, the gun goes off and runners pour out onto the course as the massive crowd of spectators erupts in cheers. At the front of the pack is Eliud Kipchoge, a legendary Olympic marathon runner that is considered to be the "greatest marathoner of the modern era." Two hours, one minute, and 39 seconds later, Kipchoge effortlessly crossed the finish line and shattered the world record. As he raised his arms up in victory, the Kenyan marathoner celebrated the culmination of years of relentless training, dedication and passion for the sport.
This, of course, was not Kipchoge's first marathon; Kipchoge is an Olympic gold medalist and sought to break his Personal Record (PR) of 2:03:05 with this race in Berlin. Kipchoge has actually run faster than his current world record at an event hosted by Nike in Monza, Italy. At the Breaking2 event in 2016, he flew around the Formula 1 track and clocked in at 2:00:05. Unfortunately, due to the event's unusual use of alternating pacers, the time did not meet the criteria needed for it to be a world record. Nevertheless, Kipchoge's performance in Berlin was nothing short of impressive as he beat the previous record time (2:02:57 run by Dennis Kimett0) by a full minute and 17 seconds.
"The things some athletes can do are truly unbelievable. Kipchoge is an incredible athlete and runner and I'm sure he will continue to shatter records in the future," junior Eduardo Caldera said.
There is no better way to understand the impressiveness of Kipchoge's lightning pace than to put it into perspective. A marathon is 26.2 miles and about 8.5 5Ks. The average person can run a 10-minute mile, which means that their 5K time would be about 30 minutes. To run a 2:01:39 second marathon, Kipchoge's average per 5K was 14:24, and his average mile was 4:39. Kipchoge was not only able to run a mile in four-and-a-half minutes, but also managed to do it 25.2 more times. If the average person were to run a marathon with a 10-minute pace, it would take them approximately four and a half hours.
"I think that [Eliud's] accomplishment is extremely impressive. I can't even imagine how much work it took to get to that speed," senior Sofia Villarroel said.
Kipchoge truly stunned the world at Berlin, with his determination and drive pushing him every step of the way. With this latest performance, Kipchoge has truly cemented his position as one of the greatest marathoners of all time. He jokingly commented that the only thing he has left to run is a 2:02:00 during his next marathon, since he's already run a 2:00:00, 2:01:00, and 2:03:00. As more races and opportunities approach him, one can only wonder what Kipchoge will be able to accomplish next.
What an amazing day!

I want to thank my coach Patrick Sang, my team mates, my management, Nike and NN. A special thank you to my fans for your support! pic.twitter.com/uCh2wCh3sQ

— Eliud Kipchoge (@EliudKipchoge) September 16, 2018