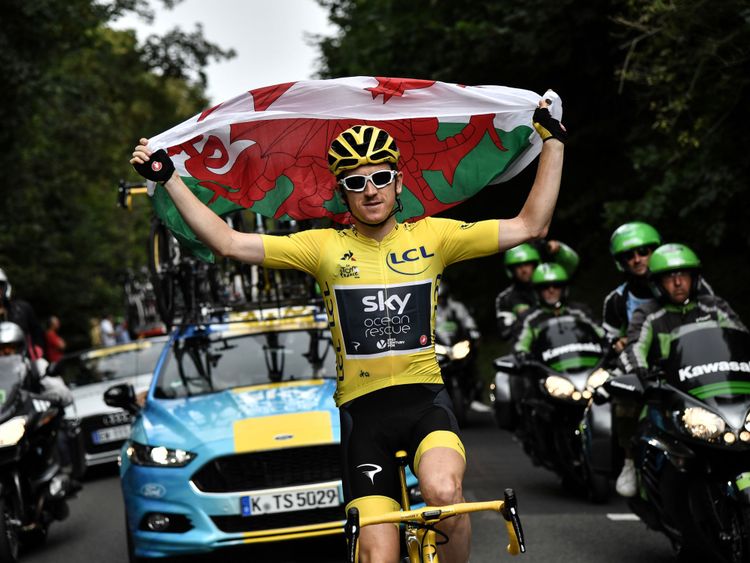 Sky News
Geraint Thomas made history on July 29 when, after crushing the difficult final stages of the race, he rode triumphantly into Paris and became the first Welsh rider to win the Tour de France.
The 32-year-old has helped his teammates secure victories since his Tour de France debut in 2007, but the 2018 race was the only time in his career that Thomas had crossed the finish line first.
Despite never having finished earlier than 15th place in a Tour de France, Thomas developed a reputation for his toughness and determination after riding the 2013 Tour de France while recovering from a broken hip.
Though Thomas stayed near the front of the pack throughout the race, his real breakout came during the grueling ride through the Pyrenees, infamous for their steep inclines and uneven terrain. He gained a vital one minute and fifty-one second lead over Tom Dumoulin of the Netherlands, who finished in second place.
"It's really hard to keep up the pace when riding in the mountains, so what a rider does there can make or break their whole performance," freshman Alejandro Garcia said.
Completing the podium was Chris Froome of England, who started the race three weeks earlier as the predicted winner.
Besides being a personal victory for Thomas after over a decade of supporting his teammates, his victory is a historical first and a huge win for the small country of Wales.
"Thomas winning this race is important because it not only proves to the world that he is an amazing athlete but also gives Wales international recognition and respect. The Tour de France is a huge test of endurance that people from all over the world participate in, so his victory brings a lot of honor to his country," sophomore Nina Montero said.
Indeed, just the day after his win, Welsh First Minister Carwyn Jones called it "the greatest individual performance by a Welsh sports star ever." Cardif Castle, in Tomas' hometown, was decked out in celebratory banners and flags, and 3.5 billion people (nearly half the world's population) from 190 countries around the world watched his ride to victory. As he crossed the finish line, he waved a Welsh flag above his head.
His 2018 victory continues a pattern of the race being dominated by Team Sky, who have claimed six victories in the last seven years. In a post-race interview with the British Broadcast Company, Thomas revealed that though he is thrilled and grateful for his win, he is "looking forward to a bit of normality as well" with his wife Sara. "Watching breakfast TV in bed with a coffee, and just having some toast on the sofa with Sara, just simple things," he said.
In terms of his career, Thomas has yet to sign any contracts; what lies ahead for the successful athlete is anybody's guess. Nevertheless, his proficiency and skill in cycling is one that should be appreciated and highly regarded, as he has made significant strides in his professional career.
[powr-social-feed id=ddbdbd7c_1533174567171]