Shaquem Griffin: Single-Handedly Inspiring the World
NFL
At first glance, the 2018 NFL Combine was nothing short of a typicality at its commence. That is, until the arrival of Shaquem Griffin, the 22-year-old phenom from the University of Central Florida. From a distance, Griffin appears to be nothing out of the ordinary when it comes to the bodily structure and muscular physique of a professional football player. He boasts an intimidating stature of a 6-foot 1-inch height and a 227-pound body weight, an ideal size for a linebacker. However, it isn't until closer observation is made that one can truly comprehended the remarkable and undeniable talent that Shaquem Griffin possesses.
Griffin was born with an unfortunate disorder affecting his left hand, amniotic band syndrome, which prevented his fingers from fully developing. Throughout his early life, he took a lot of pride in participating in sports alongside his twin brother, Shaquill, who also attended UCF and currently plays for the Seattle Seahawks. He competed in a broad variety of sports, including track and field and baseball. Finding his heart with football, he and his brother would proceed to receive athletic scholarships to UCF, where they would both spend the entirety of their college career at.
"Watching Griffin play for UCF was amazing, especially in the second half of the season. He's going to be something special," sophomore Jaime Perez said.
His inspiring, heartwarming story translates perfectly to his athletic ability. Whether it's watching him play football, lifting weights or running a 40-yard dash, it is impossible to undermine the qualities of Shaquem Griffin that have converted him to an American icon.
Throughout his whole life, Griffin has been forced to burden a colossal weight on his shoulders as a result of his disorder, but it solely served as a means of motivation and dedication for him to reach his maximum potential as an athlete. Participating in the NFL Scouting Combine, a week-long showcase for aspiring football athletes to be observed through a series of physical and mental tests by professional teams, Griffin took it upon himself to display his jaw-dropping array of talents to the best of his ability. Battling the "can't do it" label for his entire life, Griffin has implemented countless hours of effort and hard work in hopes of catching the eyes of a professional scout. He has been able to resist all the condescending comments that have been thrown at him over the years through his spectacular performance on the field.
"Shaquem Griffin is more than just a football player; he's an inspiration. He's had such a rough life and I only wish him the best with the upcoming NFL draft," freshman Jose Gonzalez said.
Despite his evident disadvantages, Griffin exhibited his talents at the combine at a level that was either on par or superior to that of his other competitors. Already possessing an honorable reputation across the football community, he has been able to make national headlines for his 20-repetitions of 225 pounds at the bench press and his 4.38 second sprint in the 40-yard dash, which is a record time for all linebackers.
Shaquem Griffin's ability to overcome adversity and to prove his doubters wrong has gained a significant place in the hearts of football fans, and sports fans for that matter, around the world. An incredibly moving and heartfelt story, Griffin aims to further impress professional scouts and teams as he tackles the 2018 NFL Draft in late April.
About the Contributor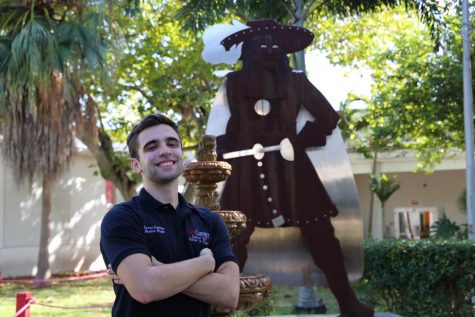 Daniel Toll, Co-Editor-in-Chief
Daniel "Danny" Toll, is a senior in the International Baccalaureate (IB) program at Coral Gables Senior High. In what will unfortunately be his last year...