Cavalier Football Kicks Off a Strong Start to Their Season

On Friday, Sept. 1, our Coral Gables Cavaliers football team played their second game of the 2017-2018 season against Miami Edison Senior High School on Gables' football field. They bounced back from last week's tough 26-18 loss against South Dade Senior High, attaining an early lead and a decisive 26-7 victory.
"I'm not surprised, but am happy with the outcome because I'm confident in the abilities of my school's football team," junior Laura Espinosa said.
Prior to the commencement of this match-up, both teams had a 0-1-0 overall record for the regular season. Edison had a rough outing last week suffering a 71-19 loss to Naples High School. The impending contest between Coral Gables and Edison was said to be pretty evenly matched.
The first points of the game were scored on a field goal by Coral Gables in the second quarter of the game, bringing the score to a 3-0 Cavalier lead. By the end of the third quarter, the Cavaliers had tallied on 13 more points, propelling them to a 16-0 lead as they entered the last quarter of the game. Although Edison High was able to muster one touchdown in the 4th quarter, the Cavs scored 10 more points and won by a score of 26-7.
This win boosted Coral Gables High School to the 4th strongest team in district-wide football standings, and 8th in their class statewide, just under South Dade.
"The team played pretty well, especially on defense. Early on, both teams could not really move the ball too much. In the second half, Gables ran the ball well, though. I think this year's team can be really good, but it all depends on the quarterback's play, since it is the most important position," junior Max Rego said.
The next game the Cavs are scheduled to play is against Miami Killian Senior High School on Friday, September 8th. Wish them the best of luck and be sure to come out and support our Cavaliers!
About the Contributor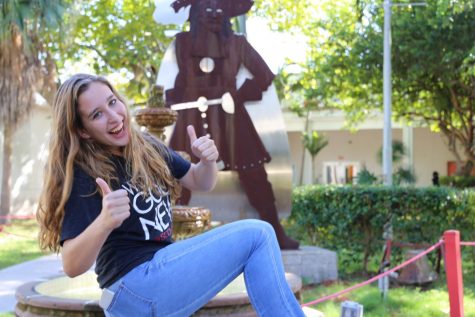 Chase Bagnall-Koger, Co-Editor-In-Chief
Chase Bagnall-Koger is a Senior in the International Baccalaureate (IB) program who is excited to be returning to CavsConnect for her fourth year with...