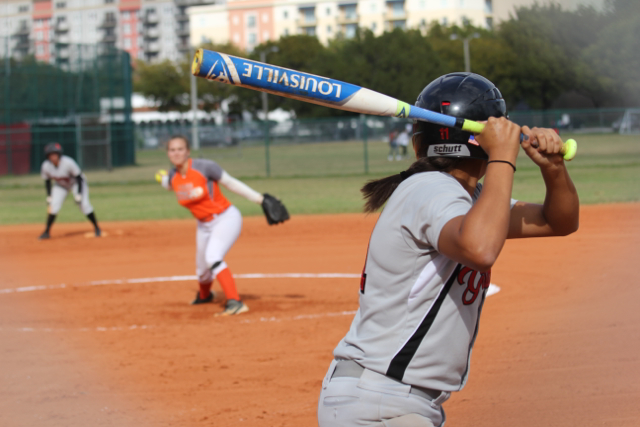 The Lady Cavaliers softball team started off the season swinging for the fences. The team easily bested the South Miami Cobras with a score of 15-0. They took control of the game early on and continued to press the Cobras, leading to the game's quick conclusion. With the rest of the season still to come, the Lady Cavaliers are excited at how well they have performed this early in the season and are eager to see how they will improve during the rest of the season.
"It was a great game and I think we are really coming together as a team," sophomore Tatiana Campos said.
As the visiting team, South Miami was the first team up to the plate. The Lady Cavaliers quickly put the Cobras away and were able to get their turn to put some points up on the board. The Lady Cavaliers started getting onto bases and getting runs very quickly. They managed to get six runs in during the first inning, leaving the score 6-0 at the end of the first inning in favor of the Cavs. The team even manged to get quite a few runs after getting two outs, showing that even this early in the season they are already performing well under pressure. During the second inning, the Cobras managed to get a runner on base, but a great double play by the Cavaliers meant another quick, scoreless  offensive drive for South Miami. Unfortunately, Gables also was unable to score during the second inning. They managed to get a runner all the way to third, but not being quite able to get her to home plate. The Cobras would continue to be scoreless in the third, but the Cavaliers were able to wake back up during their turn at bat and scored nine runs to bring the score to 15-0. The mercy rule went into effect after this and the Cavaliers did not even have to finish the entire game to take home the win.
"It's great to be part of a sports program that is good enough to mercy rule our opponents in the third inning," sophomore Sadia Aguirregaviria said.
The Lady Cavaliers have put up a good showing very early in the season. They are looking forward to continuing this momentum throughout the rest of the season. With continued work and practice they hope to do well during the district tournament this year. Be sure to congratulate them on their great game and wish them luck for their next game against Miami Beach on our home field on March 2.