Cavaliers defeat Braddock 63-43
January 12, 2017
On Tuesday, Jan. 10, our boys' Cavalier basketball team faced off against the Braddock Bulldogs. With an outstanding performance, the Cavaliers were able to best them by 20 points. The final score of the match was 63-43. Our Cavs absolutely dominated the opponent and took home the win with no problems.
Even in the first quarter, the dominance of the Cavs began to show. The game started off well for our Cavaliers. Right from the start, they were putting  Braddock into trouble.  By the end of the first quarter, the Cavs had scored 12 points to a mere 4 by the opponent. The second quarter didn't look much better for Braddock. The Cavs' defense was able to hold them to only 3 points, for a total of 7 at halftime. Meanwhile the offense got to work and scored 14 more points making the score 26-7 with Gables in the lead as the teams headed to the locker rooms.
"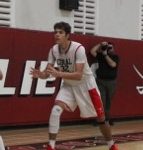 It was a game that we knew we had to blow them out. I also knew that I would't be playing very much because in games like that we need to play our bench a lot. So because of that I wanted to add something to my highlights. I saw our point guard Kahvon driving to the basket, and when I saw where the ball was going to miss, I jumped up, grabbed it with one hand and dunked it in. The crowd went crazy"
— William Blet
After halftime, Braddock stepped up their game, but our Cavs didn't let up. Braddock scored 16 points. However, this was still overshadowed by Gables' 18. Thus, the score at the start of the fourth and final quarter was 44-23. Braddock kept working hard, but once again Gables kept working and prevented their attempt at a comeback. The fourth quarter was the highest scoring of all the quarters as Braddock scored 20 and the Cavs got 19 more points. The game finished with a score of 63-43.
"We started out strong, stuck to the game plan that coach drew up before the game and at halftime, they didn't stand a chance," junior Chris Brown said.
The Cavalier basketball team played an awesome game on Tuesday. They were able to roll over the Braddock basketball team and get a win with a score of 63-43. Now the basketball team prepares for their next game, they are working hard to keep on winning. They will play South Miami on Tue, Jan. 17 at Gables. Come out and watch them play!