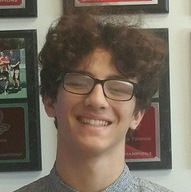 Romero
The athlete of the week for the week of Dec. 11-17 is Angel Perez. Perez finished second in the John Lyzott Wrestling Tournament and also went 9-1 in the previous week. Perez is a junior in the National Academy of Finance (NAF), but his wrestling career started before he came to Gables.
"This will be my fifth year wrestling, I started wrestling because my friends said it would be fun," Perez said.
Perez trains throughout the whole year, mainly working on technique and cardio. He also works with weights to keep his muscle composition. When he is not training Perez is working hard in his academics; he works hard to do his homework in his spare time because most nights he doesn't get home until 7-8 p.m. because of wresting. Before his match he likes to concentrate on his moves for his match, as well as thinking of inspirational quotes. Perez also likes to try to intimidate his opponents before matches. With such a busy schedule, Perez does not have much time for many other activities, but he thinks wrestling has allowed him to make a bunch of new friends and close relationships that will last him beyond high school.
"My goal for this season is to be a state champion or at least top 6 in the state championship," Perez said.
Make sure to congratulate Perez on his success this season and wish him good luck on his future endeavors.