Girls' Swimming Brings Home Another Trophy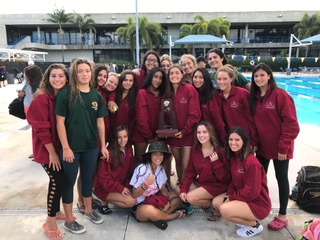 On Tuesday, Oct. 18, Gables' swimming took on their district championship meet and came back with yet another trophy. The girls' swimming team were District runner-ups and are sending many swimmers to the Regional championship. This year marks the fourth year that the girls have brought back a District championship trophy. The men's team placed fourth and are also sending a few swimmers to the Regional championship.
In prior years, the girl's team had won the District title with no contest, but this year the team had lost many key swimmers to their team, including half of the members of their relay teams. Captains Meagan Lee and Hannah Cordes knew it was going to be tough to lead basically a whole new team to the big shiny trophy at the end of the season, but they were up for the challenge and came out as District runner-ups.
"We lost quite a few people so this year's team had a lot of rookies, but I think we did our best to coach up the new swimmers and we brought home the district runner-up title, which that was pretty exciting," Lee said.
Key swimmers for the girls' team were Camila Torres, Hannah Cordes, Paula Gonzalez and Audrey Aragon. All of these Lady Cavaliers were a part of either the 200-yard medley relay and/or the 200-yard freestyle relay, both of these relays placed second gaining a lot of points for the team. Additionally, Cordes placed first in the 500-yard freestyle and second in the 200-yard individual medley. These girls are just a few of many that qualified for the Regional championship meet. Key swimmers on the men's team were Alfredo Wolferman, Orlando Montejo and Braulio Gonzalez. These are just a few of the men that qualified for the regional championship. Montejo placed second in the 100-yard freestyle and seventh in the 50-yard freestyle. Swimmers are preparing themselves to drop even more time at the regional championship with the hopes of making it to the state championship.
"After our success at districts, we're now getting ready to go to Regionals with states on our minds," sophomore Montejo said.
Make sure to congratulate and wish the swimmers good luck for their Regional championship which is on Thursday, Oct. 27. They will be competing against the top swimmers in South Florida to reach the final mile on their road to the State championship.
About the Contributor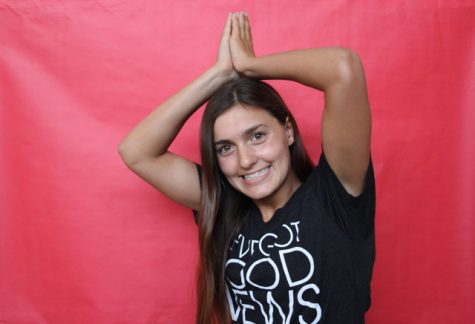 Hannah Cordes, Staff Writer
Hannah Cordes is a sporty IB senior in CavsConnect that loves everything there is to love about Gables. Whether it is dressing up for a pep rally or going...