The Return of Tebow Time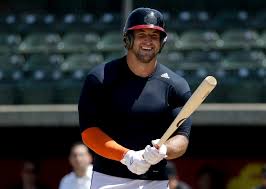 In 2011, Tim Tebow, a first round draft pick of the Denver Broncos surrounded by both ubiquitous praise and criticism, had just taken over the starting position of the team. His thrilling style of play was risky, unconventional, but was consistently putting out results. No matter how much disapproval he received, he continued to fight through until the end of the season, turning a 1-4 record into an 8-8 one and a playoff birth. He carried a sense of modesty, but played with a swagger that captivated all of America for that four month span. Then, just like that, he disappeared into a state of mediocrity. For five years he bounced from team to team, had a broadcasting stint and the "Tebow Phenomenon" was all but over. Little did the world know, Tebow wasn't done yet.
In early August 2016, Tebow made waves in the media that he was making a return to sports. Would he return to the NFL, to save a suffering team like he had done five years prior? Instead, Tebow wants to revitalize a baseball career that he hadn't focused on since high school. The backlash from the public was greater than he had ever witnessed. His critics wondered how a player that "failed" in one major sports league planned to just smoothly transition into the next.
"
I think it's kind of ridiculous that he thinks he can he can just step in and be successful in a sport he has not played since high school. I think it's disrespectful to all the other players who have dedicated their lives to the sport that he can just waltz into the MLB, "
— Dylan Carol
Tebow was actually a baseball star in high school, hitting .494 with 4 home runs and 30 RBIs his junior season. He received major attention from the Los Angeles Angels, but passed on his senior season due to his decision to enroll into the University of Florida early. While he went on to dominate as one of the greatest college football players of all time, garnering a championship and Heisman trophy, his coach believed that if he would have continued on as a two sport athlete, he could've been drafted as high as the second round of the MLB draft. Scouts saw him as the perfect creation, filled with raw potential. His power, speed and character that makes Tebow such a likable person was so appealing to baseball coaches, just as it was to football coaches.
So, ten years later, this raw potential has been unearthed as Tebow attempts a comeback into the world of baseball.  Tebow held a workout session where he showed his talents on the field and at the plate; in the 30 minute batting practice he showcased his skill. Smashing home run after home run, but also suffering to the tricky curve-balls and sliders of a major league pitcher, he received mixed reviews for the following week. Everyone knew that a team would take a chance, but who would it be?
On Sep. 8, 2016, Tim Tebow was signed by the New York Mets to play in the International League. While it is unsure whether he will ever see a major league field, the Tebow craze has returned from its hiatus. He wants the world to know that this is not a publicity stunt. After years of professional football and multiple books and endorsements, money is and won't be an issue for him. This is for himself, to resuscitate a baseball career that could have been.