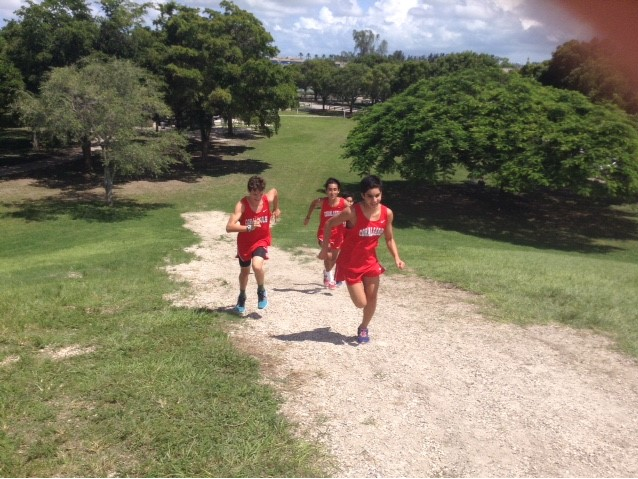 Cavan Wilson
On Friday, Sep. 9, the Cavaliers' cross country team headed to their second meet of the season, with 26 male and female Cavaliers racing over the lone hill of Tropical Park. Squaring off against 53 other schools in an "uphill" battle, the runners competed in the taxing Miami weather.
The girls' junior varsity race started off the event at 3:30 p.m.; Aenior, Albany, Muria led the way for the Cavs with a time of 27:41:99. Muria placed 36th in her race and Gables' other runner, Jazielle Gamez, placed 43rd, and as only a freshman she has room to improve.
Next came the boys' junior varsity runners at 4:10 with the blistering Miami heat hanging around even as the day wore on. Twin runners, Braulio and Luiz Gonzalez, finished 38th and 45th respectively and senior. Andy Rodriguez, finished 90th. Coral Gables finished 12th out of all schools in the boys' junior varsity category.
The day was topped off with both varsity races, in which Gables came out strong. Cavan Wilson, in a personal best time, finished 13th out of all the varsity boys and represented his school well. He led his team to a 6th place finish out of 30 schools. Many of the other varsity runners were also able to improve their season and personal bests after gaining some experience from their first meet.
"I've always liked to give my 110% in sports and in running I'm able to do that and feel like I've given my all. You have to push your limits each run to get better," sophomore Sebastian Escobar said.
On the girls sides of things varsity runners, Abigail Flores and Annie Farrell, both had successful days and in conjunction with seven other Gables runners, the girls' varsity secured 18th place overall.
Although not an easy task, the runners of Coral Gables Senior High braved the lone hill of Miami on this Friday afternoon. Hopefully a harbinger of success, the strong performance by these Cavaliers brings a sense of pride back to the school. Be sure to watch out for the cross country team for their next meet at Larry and Penny Thompson Park for the Jr. Orange Bowl Invitational on Friday, Sep. 23.