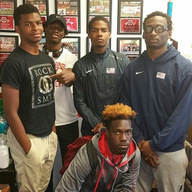 Mr. Romero
The boys 4×100-meter relay team was absolutely flying last Saturday night, Apr. 2, during the Dade County Youth Fair Championships. The team easily qualified during the preliminaries and had to wait until the end of the day to run during the final. Seniors Antwaun Walker and Travious Willis as well as juniors Terrance Bryant and Yeltsin Mora ran well during the preliminaries to get the team into the final. During finals, the team switched up the runners a bit and senior Amir Rasul took Travious Willis' place for the team's final run of the day. Not only did the boys edge out Columbus to win the event, but they also broke the meet record. It was a phenomenal event to watch as the team sped their way to the finish line.
"My goal was to make it easier for the whole team so they wouldn't have as much pressure. We went into the meet going for the win and weren't really thinking about the record," senior Antwaun Walker said.
The boys 4×100 meter relay team was pumped at the beginning of the day with a chance of beating their top rival in the event, the Columbus Explorers. As it turned out, both teams ran fast enough to beat the previous record set by Northwestern all the way back in 1999 at 41.62 seconds. This meant that the relay team would also have to beat Columbus to hold the new record. Luckily they managed to beat the Columbus relay team by less than two hundredths of a second and broke the 17 year old record. These Cavaliers set the new meet record at 41.13 seconds and also managed to set a new school record with this time. The relay also ran within two hundredths of a second of the best 4×100-meter relay time in the state this year, showing that they can definitely be a contender during the State Championships in May. As the season winds down, the five man team has their sights set on the State Championships and are working extremely hard to make a good showing there.
" Right now we want tor try to get the fastest time in the state. We also want to try to win the State Championship for the 4×100-meter relay in May," senior Travious Willis said.
The 4×100-meter relay team has been having a phenomenal season and look to continue their great performances throughout the remainder of the season. As a team with a lot of experienced senior runners, the relay knows what they need to do to win and are sure to make their last year at Gables count. Do not blink or you might miss these Cavaliers run past during Districts on Apr. 20 at Tropical Park.