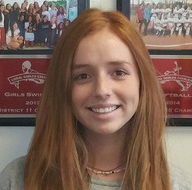 Mr. Romero
Senior Gaitana Jaramillo has been playing on the badminton team since freshman year. Her passion for the game extends beyond the court and has carried with her throughout her four years of play. Jaramillo has been a part of the team since her freshman year when she was approached by upperclassmen that encouraged her to play. Since then, she has not been able to stop playing alongside her teammates.
"I'm very glad I joined [badminton] because it has been a really fun activity to participate in after school," Jaramillo said.
Although badminton isn't very popular, Jaramillo feels that it is one of the things that make the sport so unique. Some students are even surprised that Coral Gables has a full team of dedicated members. Jaramillo feels teamwork is vital, especially while playing girls' doubles matches with her partner. Jaramillo usually plays doubles with  Sophia Castro. It is pivotal that the two communicate effectively during a game. In the first match against Hialeah Gardens, Jaramillo was against two first year players and felt that she was able to teach them some skills and demonstrate what it was like to play in a pressured environment.
"I acted as sort of a mentor to them [my opponents] and they both turned out to do well and were able to improve their skills," Jaramillo said.
Jaramillo hopes to continue enjoying a great season with her team and have a successful last year. Be sure to catch the badminton team in action during their next game on Wednesday, Mar. 16, as they play away from home against Southwest.