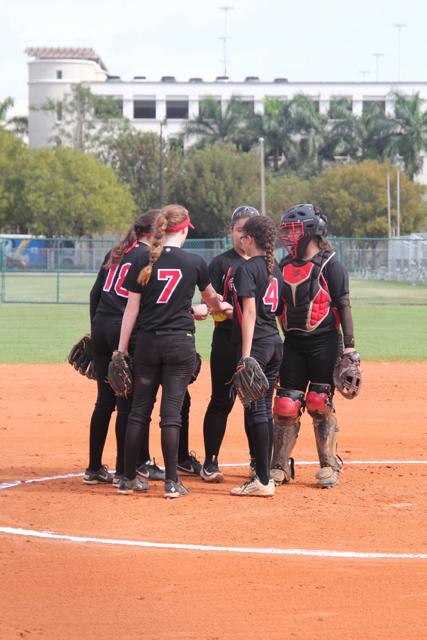 Cameryn Padron
Starting off their new year, the softball team played Southridge on Thursday, Feb. 4, on our own turf. Although the Lady Cavaliers lost 9-4, the team is sure they will make a comeback in their next game and are set on making this season one to remember.
One newbie who stood out this game was freshman Kylie Santana. Santana went two for three with a double and triple during two of her at bats, pitched four innings and only allowed one run. She even managed to score two out of the four runs. Losing last year's seniors had a great impact on the team this year, since many of  the key positions were played by seniors. This year, the team is getting back on its feet and training its new recruits to fill in the gaps.
One challenge the team will be facing is their biggest game against Palmetto Senior High. Having played them last year and losing 7-4 in the regional quarterfinals, Gables is making sure that they are prepared and ready to go for their biggest battle of the season. Make sure to catch the girls in action at their next game against PACE on Thursday, Feb. 11, at PACE.  You can expect a lot from the team this season, as they will be growing throughout the season and will soon be making a name for themselves.