Athlete of the Week: Katalina Bartelt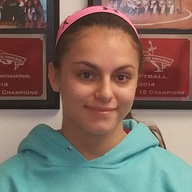 This week's Athlete of the Week is definitely one of a kind! Sophomore and wrestler Katalina Bartelt was the only wrestler in Dade-County to come in first place at the Female Wrestling State Championship. Bartelt won in the 97-pound division.
Q: How do you feel about being selected as Athlete of the Week? 
A: It's a pretty big honor being Athlete of the Week, because it shows that all my hard work is paying off.
Q: When did you start wrestling and what drove you to continue?
A: I started wrestling about a year ago, because my brother wrestled. So after I quit gymnastics, I wanted to figure [out] something else to do, so I started doing that.
Q: How much do you train to better your wrestling skills?
A: I practice every day for about two hours, and I also try and do extra things like CrossFit to try to boost up my strength.
Q: What is your opinion on the team's overall performance this season?
A: This season we've been doing pretty well with our district goals, and we placed at districts yesterday. So I think that the team is pretty strong.
Q: Is there anything else you would like to say about your recognition as Athlete of the Week? 
A: I want to thank Coach Angel and Coach Hardy for pushing me to work harder throughout the whole season.
Bartelt's wrestling accomplishment as the only female wrestler in Dade-County to win first place proves how much dedication and finesse she has for this sport. Her persistence deems her an athlete worth watching, so don't miss out on seeing her in action at the Regional Finals coming up soon.
About the Contributor
Mariam Ahumada, Staff Writer
Mariam Ahumada, an outgoing senior, is part of the IB program at Coral Gables Senior High School. She is eager to embark on her third, and last year,...