Athlete of the Week: Jessica Landsberg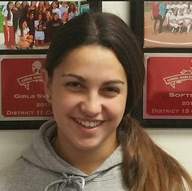 Athlete of the Week Jessica Landsberg is being recognized for her help in leading the girls' basketball team to a 2-0 week. Landsberg's memorable 20 points in the games against Braddock and her total of 23 points in Southwest's defeat have won her the title of Athlete of the Week.
Q: How do you feel about being selected as Athlete of the Week? 
A: I think it's a huge honor. I've only been Athlete of the Week one other time, so I'm very happy about it.
Q: When did you start playing basketball, and why have you continued to play throughout the years? 
A: I started playing basketball around third grade. It was at a little party with a little basketball hoop and it basically started from there. I loved it.
Q: How do you train to better your skill at basketball?
A: The team has practice almost every day. Saturday mornings, we have long practices, and I train a lot on the weekends.
Q: As a senior, do you have intentions to play college basketball, and, if so, what team do you hope to play on one day? 
A: I do. I've been working very hard to get a scholarship for basketball and I'd like to play at Fordham.
Q: What is your opinion on the team's performance this season?
A: I think that we've played really well – especially in comparison to last season, so I'm satisfied with how we've done.
Q: What are your expectations for the remainder of the basketball season? 
A: Well, we only have a few games left, but we are hoping to win the month of January, so that's our plan.
Q: Is there anything else you would like to say about your recognition as Athlete of the Week? 
A: No that's all. I just really appreciate having that honor. I worked really hard for it.
Check Jessica Landsberg out in action at the next Lady Cavalier basketball game on Wednesday, Jan. 20 at 3:30 p.m. against Southridge at the Southridge campus.