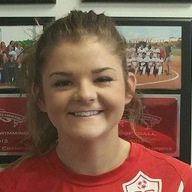 Mr. Romero
The Lady Cavaliers' soccer team is at it again! Thanks to the three goals and one assist by athlete of the week Danielle Gomez, the girls' soccer team defeated the Lady American Patriots 8-0. Above is an interview with Gomez:
Q: How do you feel about having won athlete of the week?
A: I was really excited that they recognized me,  given that I'm new to the school.
Q: You were recognized because of your three goals and one assist at the game against the Lady American Patriots. Can you please comment on your performance during the game?
A: That was a really fun game just because I got the hat trick, which is three goals. It was just fun to be able to play with the team, and beat American.
Q: When did you start playing soccer, and why?
A: I started playing when I was 6. My parents just put me in it, and ever since I started playing I just grew from there and I loved it.
Q: How do you train for soccer season?
A: A lot of running and a lot of conditioning.
Q: As a senior who is soon to move onto college, do you plan to continue to play soccer after you graduate?
A: Yeah, for sure. I'm definitely going to play college soccer.
Q: What's your opinion on your team's performance this season?
A: I think we're doing very well. We have Lourdes and Miami Beach we have to look out for, but other than that I think we're doing well together.
Q: Do you have anything else you would like to say about your achievements as Athlete of the Week?
A: I'm happy, I guess.
Thanks to dedicated athletes like Gomez, there are high hopes for this year's soccer season. Check out Gomez in action at the next girls' soccer game on Friday at 4 p.m. against Coral Park on the Gables field.