Cavaliers Swing Against Baracudas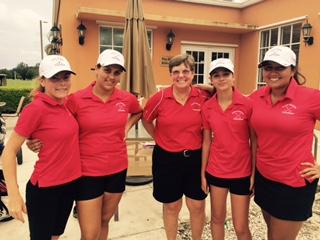 On Thursday, Oct. 1, the Gables golf teams faced off against the Coral Reef Barracudas at the Palmetto golf course. The girls' team finished with a score of 244. Meanwhile, the boys worked together to manage a score of 214. However, Coral Reef was still able to subdue both teams and take the victory. This game was a great match for the Cavaliers, who are getting ready for the Greater Miami Athletic Conference (GMACs) and regionals.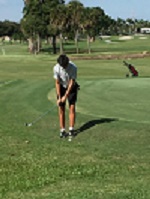 "The match was very tough. However, because the team is very young, we only have two seniors – the team has a lot of potential," sophomore Marissa Urrutia said.
All of the athletes played extremely well and worked hard to get the best score possible to help their teams. Chanel Gonzalez lead the girls team, getting around the course in 52 strokes. On the boys' side, Max Rego had the best score with a great 42. Gonzalez and Rego lead the charge, but their other teammates were not far behind. Both teams were very close, and neither lost by a margin greater than 35 strokes. They are very proud of themselves for doing so well against such a good team and are looking forward to performing later in the season.
"It was a beautiful day with a group of great Cavalier student athletes," Coach Watkins said.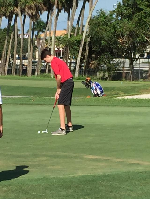 The Cavaliers played a great round of golf on Thursday, but they are hungry for a rematch against the Barracudas. They are already looking forward into the season and are starting to prepare for some of their bigger matches that will be in the weeks to come. They are improving every week and are hoping to advance into regionals and possible states this year. The boys and girls' next match will be on Oct. 13 as they take on everyone else at Districts. Be sure to watch for these golfers as they swing for a great season.