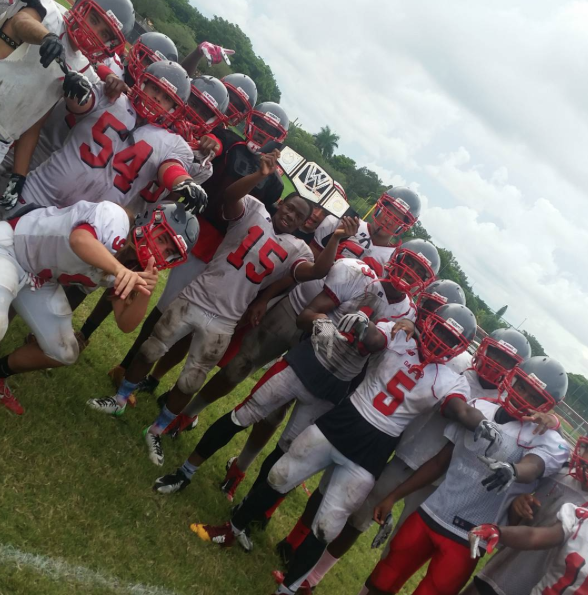 @cavaliernation
While many Cavaliers spent their summer relaxing, athletes worked hard getting into shape for their upcoming seasons. Here is how the fall sports teams have been preparing for the past few months.
Bowling:
The bowling team has been working throughout the summer to prepare for its upcoming matches.
"We started bowling practice as a team on the 17th [of August]. However, the players have been practicing on their own all summer," bowling Coach Mr. Campagna said.
Members of the team are ready for the season because many of them put in extra work throughout the year  "in individual leagues and … private lessons."
Cross Country:
Cross country runners began practice on Aug. 3, but many trained all throughout the summer.
"Most runners train on their own. A 30 day workout was given for them to follow," cross country coach Mr. Nelson said.
The team's first meet is Aug. 28 at 3:30 p.m. at Ives Dairy Park.
Football:
The varsity football team had its first game Aug. 21 versus Ferguson at Gables, which ended with a big Gables victory with a score of 49-0.  The football team had already been putting in months of hard work to get ready for the season.
"We started June 15 lifting and running for the upcoming season, but … we really have been working since January. While other kids are home, or still in bed, [the team] have been in the weight room or on the field adding sweat equity [for] this upcoming season," head football coach Mr. Pollard said.
Varsity football's first regular season game is Aug. 27 at Traz Powell Stadium versus Carol City at 7 p.m. Junior varsity's first game is Sept. 9 versus Miami High at Gables at 3:30 p.m.
Golf:
The golf team began practice Aug. 3 at the Biltmore Golf Course, but many members started even earlier.
"Many of our players participate in the First Tee Program and several have played in tournaments throughout the summer.  Chanel Gonzalez traveled to Minneapolis for a Golf Camp. Tomas Nieves played several tournaments around the country [and] Max Rego played the US Kids Tournaments. Others have practiced during the summer months," head golf coach Ms. Watkins said.
The boys open the season with the Westminster Christian Tournament on Aug. 25 at the Biltmore Golf Course and the
girls open with the McCarthy Invitational on Aug. 27 at Jacaranda Golf Course. Ms. Watkins feels good about the upcoming season.
She's especially looking out to make the season special for the golfers who will be graduating this year.
"Chanel Gonzalez, Maria Schenck [and] Tomas Nieves are seniors. As a team, we will rally around them to create a memorable season," Watkins said.
Swimming:
Mr. Couzo is the new head swimming coach. Couzo was officially hired last Thursday and the team began practice Aug. 17 at Ransom.
"A good amount of my swimmers swim for a club team, so that's how they have stayed in shape during the summer," Couzo said.
The team's first meet is Sept. 4 at 5 p.m. versus Southwest and Varela at the Tamiami Pool. Couzo has high hopes for the season.
Couzo will also be coaching girls' and boys' water polo in the spring and hopes to "compete at a high level in the toughest district in the state."
Girls' Volleyball:
Girls' volleyball athletes began practice Aug. 3.  However, some participated in volleyball camps in the gym throughout July.
"[Members of the team] have been preparing by doing lots of drills and scrimmages so they work on their team chemistry, which is a huge factor in girls' volleyball. In previous years, there had been cliques, but this year, the team is young and they all seem to get along," head volleyball coach Ms. de la Vega said.
Their first game is a home match on Aug. 25 against Southwest, a team that is predicted to go to States this year. Their second home match is Sept. 1 against another top ranked team – Ferguson.
"Our district is a tough one this year with Southwest, Ferguson and Lourdes girls who [have] all play[ed] club volleyball since middle school. We also have Coral Park, Braddock and South Miami," de la Vega said.
De la Vega does not have many expectations for this season. She just wants the team to play well.
Be sure to wish any coaches or athletes you see in the hallway good luck for their upcoming seasons and turn out to support them at their approaching games. Follow CavsConnect on social media for updates on scores and coverage of games and athletes throughout the season.