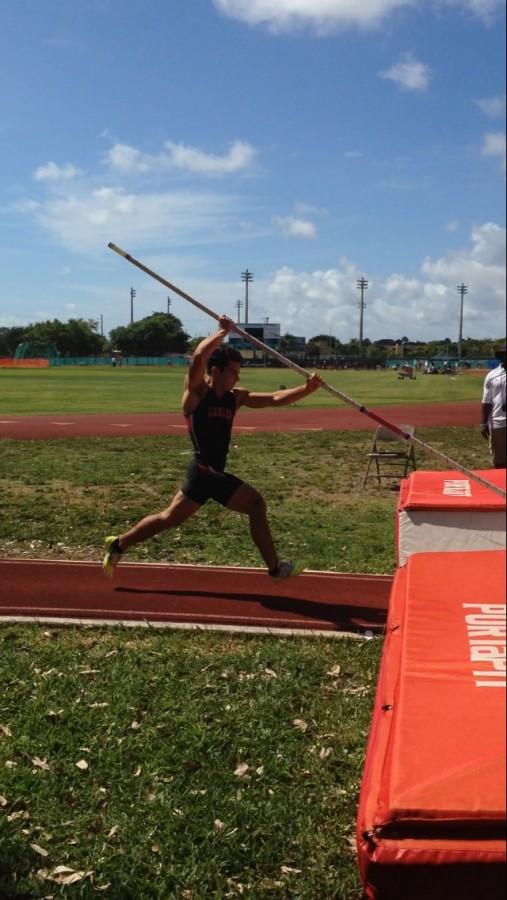 Coach John Schiefer
After only four months of training, junior pole vaulter Abraham Ahumada has qualified for regionals after placing second and helping win Gables third place at Districts, proving that he is not only academically capable, but athletically accomplished.
Ahumada is always finding ways to test and surpass his limits with the aim of bettering his skills. Such willingness to strengthen his weaknesses is what drove him to join Gables's track team this past December and compete in his first pole vaulting competition in February.
"I love challenges, and I felt that pole vaulting was going to really challenge my strength and speed," Ahumada said. 
Over the course of the season, Ahumada has been training intensely  in order to represent Gables well at Districts. A goal that he was able to accomplish, along with breaking his personal best with a height of 9.6 ft. These accomplishments did not happen easily; Ahumada has put forth his maximum efforts during practice regularly.
"Since pole vaulting is a very tiring sport, I only train every two days. As a team, we usually do a couple warm up runs and then do the real jumping," Ahumada said.
After all of his hard work and training, Ahumada qualified for Districts and was able to go forth and make a name for himself among the other competitors. What he accomplished once there came as a surprise to both him and his coaches, since most beginner pole vaulters are unable to achieve such high jumps in their first competitions.
As both an IB student and an athlete, Ahumada has many the responsibilities. He has to not only manage to perform well among other pole vaulters, but also keep his academic stable grades throughout the season. His basic secret is maintaining a strict schedule that allows him to train while leaving a sufficient amount of time to fulfill his student requirements.
"I make sure that I get home quickly after practice in order to have enough time to study," Ahumada said.
Even though Ahumada has not been training for a long time, as the sport usually requires, he has managed to surpass both his expectations and those put forth by both his coach and teammates. His second place at Districts proves that hard work and dedication are what make him a worthy opponent as a pole vaulter.