William Stephens Spikes his Way to Victory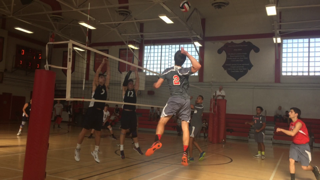 Sophomore volleyball player William Stephens has been having a great season and is striving for more to come. Playing volleyball for nine years, in school and out of school, Stephens makes his contribution on the court. Stephens does his part on the varsity volleyball team by playing outside hitter and right side hitter.
"My dad has been playing volleyball with me ever since I was little – it is his favorite sport," Stephens said.
Besides volleyball, Stephens also plays basketball. Stephens tries to encourage basketball players to play volleyball due to the sports' similar athletic demands.
"The team has improved tremendously. The group of basketball players are really starting to look like volleyball players" Stephens said.
Even with two sports all year, Stephens manages to uphold a 3.75 unweighted GPA. Stephens is in the National Academy of Finance program and plans to take it a step further by studying finance in college. However, he doesn't plan on playing volleyball collegiately, but he does aspire to play for fun.
Stephen hopes to help bring home a district championship title to finish off a great season. On and off the court, he tries his hardest to be the best. Catch Stephen at District Semifinals on April 28 against Belen.