Athlete of the Week: Antwaun Walker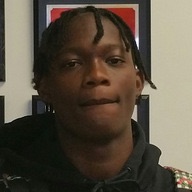 For an athlete, there is always pressure to perform well – especially when success is entirely dependent it. Luckily for Gables, junior Antwaun Walker works well under pressure. He proved himself reliable at the Cavaliers' 1st track meet of the season, where he won his 200-meter race and helped the 4×400-meter relay team finish 1st.
Walker never truly expected to succeed in track and field as he has, since his true passion was always in football. In fact, he first started running track back in middle school as a means of bettering his skills for football.
"I just like running. People have always told me to not let my speed go to waste, and that it will help with my performance in football, so why not do it?," Walker said.
Although Walker has made a huge impression with his accomplishments at the 1st track meet of the season, he refuses to let it get to his head. He knows that his past accomplishments are only the beginning, and that what will truly prove his worth is what he is able to accomplish later in the season.
"
It was my first track meet since middle school, and I feel great! It makes me hungrier and want to strive more, but I'm staying humble because it's just the beginning and I have a lot to accomplish. So I personally don't feel like I accomplished anything – just got a step closer towards becoming the best."
— Antwaun Walker
It is no surprise that Walker's true passion lies with football, but that does not mean that he is not testing his luck in track and field. He has been lucky enough to find another sport that he values, and if given the chance, he is not going to limit himself and will do what it takes to succeed.
"I hadn't really set out a goal in track because I didn't know it was this hype. My main focus is football, but if track takes me far, I hope to accomplish a championship with my team in the 4×1 and The 4×4 as well," Walker said.
Even though track and field was never the sport Walker pictured himself playing in his future, he would be more than satisfied with continuing to compete. If given the opportunity to run track for a college in the future, he would not hesitate to accept; that is, if football was not an alternative.
"I've actually thought about my possibilities of competing at a college level. I believe I'm fast enough to possibly receive a scholarship, so I'll leave my options open in case football doesn't workout," Walker said.
Walker's performance at this season's first track meet was only a glimpse of what is to come in the upcoming meets and throughout the season. Catch him in action at the upcoming track meet on Tuesday, Feb. 24 at 2:00 p.m., where the Cavaliers will be competing against Miami High, Ronald Reagan, Miami Beach Central, and Northwestern.