Athlete of the Week: Alex Elortegui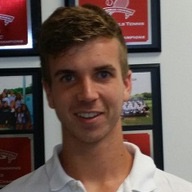 This week's athlete is running at high speeds and for long periods of time. Gables junior and cross country runner Alex Elortegui helped lead the boys cross country team to 1st place in the 305 Classic Cross Country Invitational this past Friday.
Q: How does it feel to have been chosen as athlete of the week out of the many other athletes here at Gables?
A: It's an honor, because I know that there is a lot of great athletes here at Gables. To be considered the athlete of the week really means something – it shows that my hard work and dedication has finally payed off. And I am gonna have to thank my coach Mr. Nelson for nominating me. Thank you.
Q: You were chosen as athlete of the week because of your accomplishments this past Friday in the Classical Cross Country Invitational. What were the thoughts running through your mind when you realized that you were the one that led Gables to victory on Friday?
A: It was really inspirational because I had my new teammate Fernandes right next to me. He has been a new addition to our team who has really helped us out this year. We were pushing each other through the race the whole time, and finishing or coming up to the finish together with him gave us both a sense of pride to see that we were able to lead such a big great school to victory.
Q: Ever since you joined the boys cross country team at Gables you've been all the hype. So in order for us to get a better understanding of your cross country background, could you please tell us about your first years as a runner? When did you start cross country and why?
A: Ultimately I started cross country as an escape from baseball. I've been a competitive baseball player since – let's say – pre-k, and I finally quit in seventh grade – I had had enough. Running was the only thing for me. I decided to really take it upon me to become the best that really could be.
Q: When you started cross country did you ever imagine succeeding as much as you have, or having this much potential? Please elaborate.
A: No, not really. I remember joking around because – I mean joking around with my middle school runners, they would always make fun of me because I was the slowest guy in the team. And we had this teammate named Kurt. He's at Reef now and he's one of the nation's best runners – they would always joke around like: "Oh, Alex what if you caught up to him some day?" And little did we know that the next year I would have broken his national record. It was really fun.
Q: Besides winning 1st in the 305 Classic Cross Country Invitational, what more do you hope to accomplish during the remainder of the season? Please elaborate.
A: Well I don't have so many individual goals this year, but I do wanna help the team make it to states this year. It's been years since Gables has been where the guys in this game had. I think that our team is definitely strong enough to go this year, and hopefully we pull through.
Q: Let's talk long term. Where do you picture your cross country career in a couple years? Do you want to run professionally, or for college or university? Or is cross country only going be a high school sport for you?
A: Well, that's a pretty complicated question for me. I've been thought a lot about this. Sometimes I think I wanna run collegially, and up until this summer I wanted to compete for my home country Norway in the Olympics, but I can't really take six months away from school to go train with them. As of right now, we'll see – if a decent college wants me to run for them then I will definitely consider the option.
Catch Alex Elortegui at his next Cross Country meet on Oct. 23 in the Junior Orange Bowl!
About the Contributor
Mariam Ahumada, Staff Writer
Mariam Ahumada, an outgoing senior, is part of the IB program at Coral Gables Senior High School. She is eager to embark on her third, and last year,...