Athletes of the Week: James Jackson and Paloma Sanchez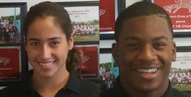 Some athletes don't play around – especially when they're striving for nothing but victory, and athletes James Jackson and Paloma Sanchez are not joking when they step onto the field or dive into the pool. Jackson, a football player in the 12th grade, had an interception, a forced fumble recovery, and a QB sack in the varsity football victory against Coral Reef. Sanchez, a 9th grade swimmer, finished 2nd in both the 50-meter and 100meter freestyle events at the Youth Fair Invitational.
James Jackson has been playing football since his parents put him in a neighborhood team at the age of four, but his true interest in the sport didn't start until after his coach started paying him to play on the team. Soon after, Jackson started putting more time into his personal training and found himself loving football.
"After I started playing, I met this coach that would pay me about 50 dollars a game. My coaches would tell me that I could play for the NFL and get paid for playing football, and just like that I started liking it," Jackson said.
Although Jackson's current position on the Gables Varsity football team has lead him to various victories, he is still aiming for more. He hopes to prove his worth at his upcoming game against Killian, and has set a goal for himself to make at least three interceptions in most, if not each, of the remaining games this season.
"I want to play at a high level and make it to states, or maybe playoffs. I want to show everyone not to step on me, because I'm gonna go out there and do great things," Jackson said.
Paloma Sanchez's current position as a Gables swimmer has led to the victory of finishing 2nd not in both the 50meter and the 100meter freestyle events at the Youth Fair Invitational. However, she hopes to achieve more in her upcoming swim meets and hopefully to succeed enough to swim at college and in the Olympics. For more information on Paloma Sanchez, read her spotlight.
Make way for the athletes of the week! They're coming at full speed with a desire for victory. Jackson's next football game is on Wednesday, Oct. 8th against Killian. Sanchez's next swim meet is on Thursday Oct. 9th at GMAC.