Rigorous Program Leads Urrutia to Captain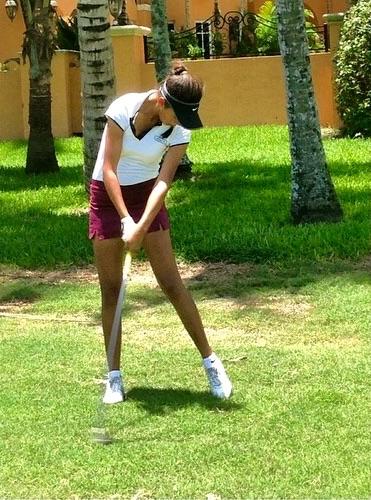 In just four years, a completely novice golfer has become the golf captain for Gables. Luckily for the girl golfers at Gables, sophomore Marisa Urrutia found her passion for golf, almost by chance, and is now head player for the Varsity Girl's Golf team.
Urrutia was introduced to golf when her mother started working at Melreese Country Club in 2011. There, Urrutia started attending The First Tee Miami, a golf program, and as she got to know the sport better, she found herself loving the game.
"Since starting at The First Tee Miami, I've made so many new friends, many of them being my teammates at Gables who are now so important to me. After making all those friends, I couldn't stop playing, and I slowly started falling in love with the game," Urrutia said.
Since then, Urrutia and golf have become inseparable, and it has become one of the most important factors of her life. She has gone on to become captain of the girls' golf team and dedicates a large portion of her time to making sure that her team is on track for success.
"It takes authority and a lot of work to make sure everyone is in order on your team. [A captain needs] to make sure we have all our materials, uniforms, and that everyone is eating and staying hydrated as we play so that everyone plays successfully on their match and tournaments," Urrutia said.
In the reach for success, Urrutia has built a strong relationship with her "girls" to the point that she considers them a part of her family.
"I like being captain of the team, because I would do anything for my girls. I think we all share a bond that very few golf teams have. Good or bad, we support one another. Whether we're off or on the team, we are also all good friends," Urrutia said.
When she's not golfing, Urrutia is balancing work, school, other sports and NHS. Yet none of these things are nearly as important to her as golf. This is clear to see given how she arranges her time so that she is able to train for her dream of someday playing Division 1 and 2 University golf.
"I practice a lot with my coach, Charlie DeLucca, and most I importantly play regional and state golf tournaments," Urrutia said.
Like any other teen, Marisia Urrutia has a lot on her plate, but she has not let any of it get in her way. Since finding golf, she has dedicated a majority of her time to playing well and succeeding. At this rate, Urrutia has a lot of potential for the future.
About the Contributor
Mariam Ahumada, Staff Writer
Mariam Ahumada, an outgoing senior, is part of the IB program at Coral Gables Senior High School. She is eager to embark on her third, and last year,...